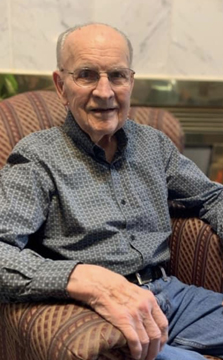 November 13th, 1930 – June 27th, 2023
It is with heavy hearts we say goodbye to our dad, grandpa, great-grandpa and brother, Joseph Michael Thome, aged 92 years of Avonlea, SK on Tuesday, June 27th, 2023.  We are deeply saddened to see him go but take comfort in knowing he will be welcomed into Heaven by his beloved wife Rose, and son, Robert.
Joe grew up on a farm near Prelate, SK where he met Rose Hammel, whom he married in 1956.  During his school years he developed a love for music, learning to play the violin.  This led to Joe and four of his friends forming a band, The Western Ramblers, playing at dances in the surrounding area.  He also enjoyed playing baseball, and he and Rose spent many hours in their later years watching baseball, as well as curling and hockey.
Joe and Rose moved to the Rouleau, SK area to farm in the early 1960's, where they raised their family.  They retired from the farm when Joe was 58 and moved to Moose Jaw, SK, where they formed a band with a few friends, Country Cousins, and enjoyed playing old time music at various places in Moose Jaw.  After Rose's passing, Joe moved into the Mulberry Estates and then to Coteau Range Manor in Avonlea, where he resided until his passing.
He was predeceased by his wife, Rose and son, Robert.  Joe is survived by his daughter, Joann (Allan) Kirkpatrick; daughter-in-law, Kathryn Thome; grandchildren: Justin, Kyle, Cody, Jasmine, and Samara; great-grandchildren: Seth, Hayden, Emily, Lyndsay, Ethan, and Ivy; brother, John (Sophie) Thome; and sister, Rosalia (Richard) Brecht.
A heartfelt thank you to the staff at Coteau Range Manor.  The genuine compassion and care Joe received while living at the Manor will never be forgotten. 
In keeping with Joe's wishes, a Private Family Gathering will be held to celebrate his life.  As an expression of sympathy, donations in Joe's name may be made to Coteau Range Manor, 210 New Warren Pl, Avonlea, SK S0H 0C0.  Arrangements are entrusted to Moose Jaw Funeral Home, 268 Mulberry Lane.  Michelle Ellis, Funeral Director 306-693-4550