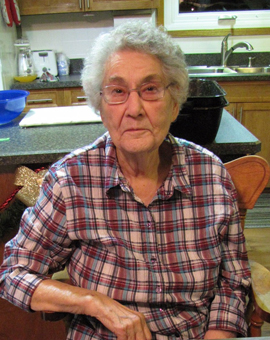 Hilda Marion Thomas, aged 92 years of Canora, SK passed away on Sunday, January 16th, 2022.  She was predeceased by her parents; husband, Elgan; sons, Floyd and Ray Donald; grandson, Travis; and 2 brothers-in-law.  Hilda leaves to mourn: her sons, Don (Delaine), Hal (Kathy), and Tim (Gloria); sisters, Marg and Lois; brother, Arnold (Adeline); grandchildren: Jacqueline, Ian (Charlene), Lee-Ann (Kelly) and Tracy; great-grandchildren: Tyson (Alyssa), Rebekah, Zöe, Bronson, Mia, Gasper, and Lane; and great-great-grandchildren, Talia and Noah.  
Hilda Marion Boan was born January 23rd, 1929 to Alice Maud Birch and Walter Thomas Ewen Boan at the farm in Lake Valley, SK.  The family moved to the Brownlee district in 1930.  Hilda attended school in Faulkton, Estbank and Brownlee, SK.  She enjoyed sports, homemade picnics, herding cattle, raking hay, taking horses to pasture, and driving the tractor for harvest.  Hilda rode horseback to a lot of events, including dances.  Farm life is sharing, caring and learning about life.  Her loving, caring parents taught her much about cooperation.
When Hilda was 16 she met the love of her life, Elgan Thomas.  They dated for 2 years and were married in 1947.  During their married life, they moved 26 times.  These moves included Brownlee, Moose Jaw, Keeler, Mortlach, Grand Coulee, Regina, Balgonie, and Canora.  During these years they were blessed with three sons: Don, Hal, and Tim.  Hilda started doing foster care and adopted 2 indigenous boys, Floyd and Ray Donald.  She worked for Family Services and then in group homes as resident manager for many years.  
Hilda loved to travel and camp.  Later in life, Elgan and Hilda travelled to Alaska and fell in love with the mountains, scenery, and nature.  Around this time she started hiking and exploring the mountains at Waterton.  She enjoyed all the sights the mountains had to offer.  When Lee-Ann, her granddaughter, was 12 she joined Grandma and Grampa on one such trip to Waterton.  Hilda loved showing Lee-Ann the snow on the mountain, the eagles flying above, and mountain goats grazing on a plateau.
In 1984. Elgan had a fall and never fully recovered.  The next 20 years were spent adjusting to his physical deterioration.  Sadly she lost her son Floyd in 2003, grandson Travis in 2004, her father in 1985, her mother in 1997, and son, Ray Donald in 2011.  Through these sad pages of her life, Elgan and Hilda were together and faith prevailed.  They moved to Canora in 2002 and enjoyed the company of sons, daughters-in-law and grandchildren.  
In 2003 Hilda had a heart event and could no longer give Elgan the care he needed.  He became a resident of Gateway Lodge until his passing in 2008 after 61 years of marriage.  Hilda was thankful they were in a small town as she was able to drive and see Elgan almost every day.
These words of wisdom were found in Hilda's papers and the family would like to share them with you:
To those of you with partners, enjoy and love them.
Life is fragile and can be short.
Settle your differences quickly and turn the page.
The Funeral Service will be held on Monday, January 24th, 2022 at 1:00 p.m. in Moose Jaw Funeral Home.  Those unable to attend are invited to view the service virtually by going to www.moosejawfuneralhome.com/webcast/.  Interment will take place at Rosedale Cemetery in Moose Jaw, SK.   As an expression of sympathy, donations in Hilda's name may be made to the Kinsmen Telemiracle Foundation, 2217C Hanselman Court, Saskatoon, SK S7L 6A8.  Arrangements are entrusted to Moose Jaw Funeral Home, 268 Mulberry Lane.  Andrew Pratt Funeral Director 306-693-4550