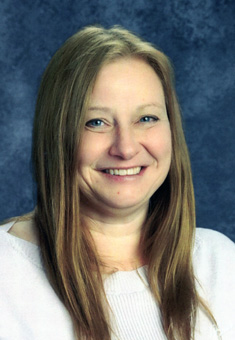 Mrs. Carrie Therrien, beloved wife of Mr. Daniel Therrien, passed away on Wednesday, April 21st, 2021 at the age of 49 years.  Right before passing, Carrie heard the voices of her loved ones while having her husband by her side.  Carrie is survived by her two children, Brady (age 13) and Hunter (age 11) who made up the entirety of her world and Daniel, her loving husband of 14 years.  Carrie is also survived by her parents, Marion and Richard Fischer; two sisters, Tracy Krein (Calvin; children: Kolton and Jaeden) and Erin Reeder (Jordan; children: Seth and Jace); mother-in-law, Denise Therrien; brother-in-law, Alain Therrien (Marie; children: Chloe, Tristan); Danielle Christensen (Brent; children: Carter, Camden, Kendall) and Chantal Strawson (Matt; children: Emilie, Connor); as well as numerous aunts, uncles, cousins, and friends.  Carrie was predeceased by her baby girl; grandparents, Eva and Ryott Barroby; grandparents, Magdalena and Reinhold Fischer; and father-in-law, Gilles Therrien.
Carrie was born in Medicine Hat, AB on July 12th, 1971.  As a child, Carrie's favourite place to spend time was at her grandparents' ranch "The Barroby Ranch".  She spent many summers at the ranch with all her relatives camping, riding horses, feeding the animals, fishing, and swimming in the creek.  Carrie was very close with all of her relatives, especially her 'many' cousins in which she spent numerous happy times together, as well she had many close friends.  Her parents and sisters most special time with Carrie was when she would bring the boys from Moose Jaw for holidays and camping and boating in the summer.  Carrie was always up for a new adventure and good times with family and friends.  Carrie's adventurous side took her too many new places.  She lived in Lethbridge, AB and went to Lethbridge Community College for Child & Youth Care.  Her adventures also brought her to Vancouver where she worked for her Uncle Frank and Aunt Lynn tending to the horses at the race track, in Kananaskis she worked at Rafters Six Ranch, and in Calgary she worked various jobs and continued her education.
When Carrie was in Calgary, that's where she first met Daniel Therrien, working for his company doing lawn care/landscaping and they began dating in 2001.  Carrie and Dan enjoyed spending their time playing tennis, rollerblading, golfing, camping and hiking.  After a few years, Carrie discovered her calling which was working with people with disabilities.
On May 27th, 2006 Carrie and Dan were married at St. Barnabas Church in Medicine Hat.  The church had special meaning to Carrie because it was the same church and day her grandparents Eva and Ryott were married.  
In 2006 Carrie and Dan moved to Moose Jaw, SK where they built their lives and family together.  Carrie started working at the YMCA day care where she made many close friends.
March 5th, 2008 was one of the happiest days for Carrie and Dan as they welcomed their first son, Brady Gilles Therrien.  Two years later, they received another blessing when they welcomed their 2nd boy, Hunter Thomas Therrien, who was born on March 30th, 2010.  Carrie was a caring, loving, thoughtful, and the most attentive mother.  Nothing brought Carrie more joy in life than her family.  Carrie always said that the best decision of her life was to take the first 7 years of the boys lives and stay home, giving her two boys the best start in life they could ever have hoped for. 
When Brady and Hunter started school, Carrie went back to work part-time as an Educational Assistant for both Prairie South and Holy Trinity School in Moose Jaw.  For the past couple of years Carrie worked as an Educational Assistant at King George School, where she had the opportunity to work with children with disabilities. 
Carrie's favourite thing to do was to spend time with her family.  Carrie treasured the time she got to spend camping and skiing.  She also enjoyed watching all of her kid's activities.  She spent hours watching everything from recitals to football games, track meets, and most importantly soccer.
Carrie will always be remembered as someone who brought joy and happiness to everyone around her.  Carrie was loved by everyone for her kind, positive, carefree and easy going nature.  She didn't have a mean bone in her body and always saw the best in everyone she would meet.  Carrie, regardless of how long she had seen someone, would always go out of her way to contact and get together with every friend and family member possible.  But most important of all, Carrie will be remembered as a loving, thoughtful and caring mother who would have done anything for her children.  Carrie was also a loving daughter, sister, aunt, friend, colleague, and wife who devoted her life to raising her two boys. 
Carrie, you were an incredible role model who showed the world how to see the best in everyone.
Due to restrictions regarding the current health situation, a Private Family Service will be held.  Friends and Family are invited to view the Celebration of Carrie's Life virtually on Friday, April 30th, 2021 at 11:00 a.m. by going to www.moosejawfuneralhome.com/webcast/.  As an expression of sympathy, donations may be made to an education plan for Brady and Hunter.  A Go-Fund me page will be set up within the next 1-2 weeks or donations may be sent by etransfer to danieltherrien@live.ca.  
Arrangements are entrusted to Moose Jaw Funeral Home, 268 Mulberry Lane.  Michelle Ellis, Funeral Director 306-693-4550