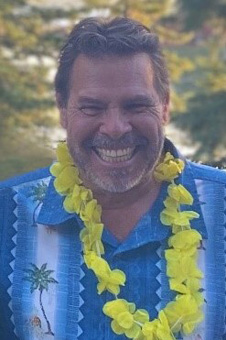 Curtis Dean Temple passed away at his home on Wednesday, April 14th, 2021 at the age of 61 years, after a long and courageous battle with Lung Cancer.  Curtis touched our lives in many different ways as a Father, Husband, Son, Little Brother, Big Brother, Cousin, Uncle, Nephew and friend.  To say the least, Curtis was a big personality with an even bigger smile and sense of humor.  
Curtis had an amazing passion for life and put his all into everything that he did.  Some of the most memorable times centered around Curt's love of cooking; the feasts he would prepare were unbelievable and often included Curt's unique spin on an already great recipes.  He loved to work on cars, motorcycles and had a deep love of aviation…the number of hobby cars and motorcycles he built (and rebuilt) is astonishing!  Although, his true passion was Scuba diving.  He was an accomplished diver with many awards and accreditations, he had reached the highest level of diving certifications and was a remarkable resource to the Scuba industry; his love of diving and passion for instructing touched hundreds of people that he introduced to the amazing under-water world that he loved so much!  His Scuba shop, "Scuba Guys", was a huge part of his life and brought a great deal of pride, fun and sense of adventure to him and anybody that walked through the door!
Curtis will be deeply missed by his son, Brandon who he loved more than anything; and his life-long love, Carrie.  Curtis will also be sorely missed by his sister, Laurel (Duane, Kyla); brother, Rod (Tracy, Alia, Matthew); brother, Todd (Allie, Kaitlin, Evan, Taryn); cousin and close friend, Keith; aunts, Darlene and Joyce; close friends: Brent, Rob, Gary, and Paul; his constant companion, Roxy (his lap dog); as well as many, many others.
A Celebration of Curt's Life will be held at a later date.  As an expression of sympathy, Curtis would have liked to have any donations be made to the Allan Blair Cancer Centre c/o Pasqua Hospital, 4101 Dewdney Ave, Regina, SK S4T 7T1 www.cancerfoundationsask.ca.  Arrangements are entrusted to Moose Jaw Funeral Home, 268 Mulberry Lane.  Andrew Pratt Funeral Director 306-693-4550