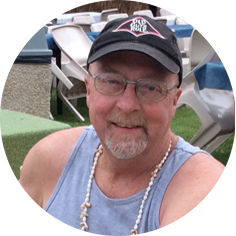 On Tuesday, December 8th, 2020 Barry Innes Taylor, aged 60 years of Moose Jaw, SK passed away peacefully at home with his beloved wife by his side.  Barry fought hard to stay but succumbed to an aggressive cancer.
Barry was born July 28th, 1960 in Saskatoon, SK to Neil and Pauline Taylor of Outlook, SK.  He later grew up in Regina, SK where he attended Thom Collegiate High School, graduating in 1978.  After high school Barry worked for SGI before attending Saskatchewan Technical Institute and continuing on to the University of Regina where he received a Bachelor of Science in Engineering.
After university Barry worked for SaskWater and Sask Watershed Authority as a Hydrologist for many years.  He was very proud of his engineering degree and wore his pinky ring daily.  Barry retired from the Watershed Authority in 2012 after many years of service to pursue his true passion, farming.  His farm started as a hobby but it quickly became clear that this was more than a hobby and it morphed into a more than full time job.  Barry farmed near Craven, SK for many years until his illness no longer allowed him to continue.
Barry was a proud father to three children: Christopher born in 1985, Bri'Anne born in 1989 and Alexander born in 1996.  He met the love of his life, Janice, in 2006 and quickly inherited 4 more children and 3 grandchildren.  Those 3 were later joined by 11 more and Barry was Grandpa to 14!  
Barry loved all things muscle cars and guns, snow machines and jet skis, farming, and family!  He had boundless energy for the things he loved.  He was a unique personality and a goofy character.  Barry was always willing to share a joke and make people feel welcome.  He was successful in all of his endeavours and was helpful whenever he could be.  He was a cornerstone for his beloved family.
He was predeceased by his brothers, Douglas and Claire; parents, Neil and Pauline; and mother-in-law, Doris Heidinger.  Barry is survived by his wife, Janice Pengelly-Taylor; his children: Christopher Taylor, Bri'Anne (Kyle) McKellar, and Alexander (Grace) Taylor; step-children: Tiffany (Chris) Wilson, Adrienne (Shaun) Muchowski, Erik (Winnie) Pengelly and Zachary (Shelby) Pengelly; sister, Carol (Alan) Weisbrod; brothers, Blake (Caralee) Taylor and Todd Taylor; his 14 grandchildren: Emma, Hannah, Ella, Mason, Sophie, Damien, Nikkia, Chloe, Abigail, Addison, Kylee, Karter, Bentlee and Mykonos; father-in-law, Edward Heidinger; 7 step-siblings and their spouses; and too many nieces and nephews to count.  
Due to public health restrictions, a Private Service will be held for immediate family only.  You are welcome to view the service virtually on Sunday, December 13th, 2020 at 2:00 p.m. by going to www.moosejawfuneralhome.com/webcast/.  In lieu of flowers, donations in Barry's name may be made to Hunger in Moose Jaw, 269 Stadacona St W, Moose Jaw, SK S6H 1Z4.  Arrangements are entrusted to Moose Jaw Funeral Home, 268 Mulberry Lane.  James Murdock, Funeral Director 306-693-4550