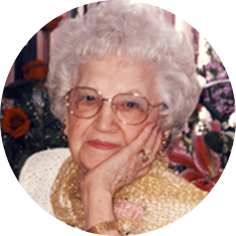 It is with great sadness that we announce the death of Anne Taylor on Tuesday, September 20th, 2016, in her 108th year.  She was born on the homestead farm in Benson, SK on March 31st, 1909, the third child of William and Melina Menard.  Anne went to a country school for her former years and also attended the convent school in Forget, SK.  The family was raised with strong Christian values.  She loved her faith, which was an enduring source of strength in her life.  In 1935, she married Sidney Taylor in Lampman, SK.  They had one son, Donne.  In 1942 they moved to Moose Jaw, SK.  Anne worked at Steen & Wright Furriers for 20 years.  After the death of her husband, Anne moved to Regina, SK to be close to her sister Agnes, where she spent several years before moving to Lakeside Care Home in Wolseley, SK.  Anne was a member of the Catholic Women's League for 71 years.  While living in Moose Jaw, she did volunteer work at the Providence Hospital, St. Anthony's Home Auxiliary and Pioneer Lodge.  Family was very important to her.  She was a great cook, loved to plan dinners and parties, decorating her home, and a pro at matching colors and accessorizing.  Anne also loved to dance.  She was predeceased by her parents; son, Donne (1988); husband, Sidney (1991); brother, Ludgar (Pete) Menard; sisters, Agnes Richards and Caroline Proulx and their spouses; and several nieces and nephews.  Anne is survived by her daughter-in-law, Gloria (Taylor) Meyer and her husband Ray Meyer, who she treated as a son; grandchildren: Karen (Larry) Jacques, Colleen Taylor, Rodney Taylor and friend Roger; great-grandchildren, Sarah and Josh Jacques; great-great-grandson, Treyvon Jacques; as well as many nieces, nephews and their families.  The Funeral Mass will be celebrated on Tuesday, September 27th, 2016 at 1:00 p.m. in St Joseph's Roman Catholic Church, 1064 3rd Ave NW, Moose Jaw, SK.  Father Rick Krofchek will be the presiding celebrant and interment will take place at Rosedale Cemetery.  In lieu of flowers, donations may be made in Anne's memory to the Children's Health Foundation of Saskatchewan, 306 – 728 Spadina Cres E, Saskatoon, SK S7K 4H7 or a charity of one's choice.  Special thanks to the nurses and staff for the excellent care given to her at Lakeside Care Home in Wolseley over the last five plus years there.  Thanks also to everyone who visited, sent cards, phoned her and kept in touch, it was much appreciated.
Memories are treasures no one can steal
Death leaves heartache no one can heal
No longer with us in life to share
But in our hearts she'll always be there.
Arrangements are entrusted to Moose Jaw Funeral Home, 268 Mulberry Lane.  Michelle Surtees Funeral Director 306-693-4550