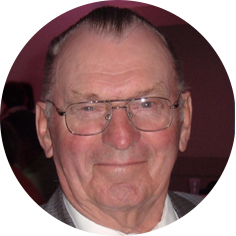 The family of John Symenuk announce his passing on Sunday, January 3rd, 2021 after a brief illness at the age of 97 years.
John was born to George and Mary Symenuk in Hamton, SK on August 15th, 1923, the eldest of eight children.  At the age of 20 he joined the Air Force and went overseas as an aircraft mechanic.  Upon returning from WWII in 1945 he settled in Moose Jaw.  In July 1947 he married Mag Barber.  John worked at Moose Jaw Hardware and in 1951 he embarked on his 33 year career as a Journeyman Machinist at Gulf Oil.  During that time John was an executive member of the OCAW union.  He was a long time member and supporter of the local branches of the Legion and the ANAVETS.
John was involved with many sports: ball, golf, bowling, curling, and skating, as a player, coach and umpire, often in a leadership role.  There were very few activities that his kids were involved in that John wasn't in the stands or on the field coaching.  In his later years he was a great supporter of his grandchildren's activities.  John was an accomplished 10 pin bowler with many trophies displayed in the Rec Room.
Following his retirement, golf became a favourite pastime.  He was lucky enough to shoot his age at 76 and also scored a hole-in-one.  He was granted a lifetime membership at Lynbrook Golf Club for his years of support and service as an executive member.  
John loved music and loved to dance.  He enjoyed following his favourite teams like the Blackhawks, Dodgers, Blue Jays and the Riders.  He loved to do the newspaper crossword and the word search every day.  John was so proud of being able to live in his house for as long as he did.
He was predeceased by his wife, Mag; infant daughter, Bonnie; his parents; sisters, Lena and Helen; brothers, Bill and Fred; and special friend, Flo.  John is survived by his children: Bob (Linda), Marilyn (Brian Hill), Barb (Bruce Leech) and Lori Davidson, along with his 9 grandchildren: Jamie (Shawn Helland), Jeff Symenuk, Amy (Troy Sharpe), Graham Hill (Caitlin), Christie Hill, Courtney (Christopher Beaulieu), Robin Leech (Gabrielle – deceased), Lindsay (Jordan Magdalin), and Carlee Davidson; as well as 17 great-grandchildren.  John is also survived by sister, Mary; brothers, Pete and Dan; sisters-in-law: Doreen, Florence, June and Ruby; brother-in-law, Gord; along with numerous nieces and nephews on both the Symenuk and Barber side.
A Private Family Graveside Service will be held and John will be laid to rest in the Sunset Cemetery.  As an expression of sympathy, donations in John's memory may be made to the Heart and Stroke Foundation of Saskatchewan, Unit 26 – 1738 Quebec Ave, Saskatoon, SK S7K 1V9.  Arrangements are entrusted to Moose Jaw Funeral Home, 268 Mulberry Lane.  Andrew Pratt Funeral Director 306-693-4550