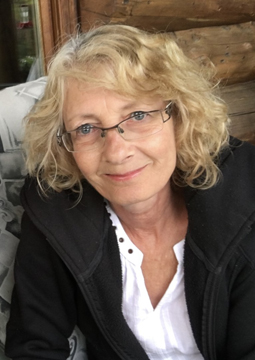 Penny Sutherland (née: Campbell) passed away unexpectedly on Thursday, October 20th, 2022 in Moose Jaw, SK at the age of 65 years. 
Penny was born June 6th, 1957 to Robert and Lieta Campbell.  She was raised in Biggar, SK, where she eventually raised three beautiful children with her loving husband Brad: Christine, Craig, and Stephen.  Penny was proud of her children in the careers they built for themselves and enjoyed hearing and being part of milestones in their lives.
Penny stayed at home raising her children full time until they reached school age, at which time she worked at the Bank of Commerce and then furthered her career with Canada Post until she retired.  At that time she and Brad moved to Moose Jaw for Brad's career where she was able to continue to partake in her hobbies, building a close friend circle there.
Penny had a passion for all aspects of life, as well as many hobbies in her life that she excelled at.  She loved her family and always put them first.  Penny was an avid gardener and would collect seeds from previously grown plants to grow the following year, encouraging her children to do so also.  She would always grow her plants and flowers from seeds, starting them indoors and taking great pride in the bountiful harvest that she would always share with family and friends.  
Golfing and fishing were also part of Penny's hobbies.  She enjoyed being on the golf course as this gave her opportunity to relax and visit with family and friends.  When it came to fishing she would often out fish everyone in the boat, and loved every minute of that.  Penny loved all living animals, especially her dogs.
Penny continued to be physically active until her passing.  This included walking at Yara Centre in Moose Jaw, where she met many close friends, as well as yoga and nature walks.  She also enjoyed shopping especially for a good deal.  Penny loved cooking homemade foods which included extravagant meals of homemade Chinese food that was always a favorite of her children growing up.
Everyone knew Penny for her amazing sewing and quilting talents, always putting out top notch items such as quilts and blankets for each of her children and grandchild, which they will forever cherish.  The intricacies that she would make sure were met prior to any display of her work, is often recalled by those who received her artwork.
She was predeceased by her mother, Lieta; father, Robert; mother-in-law, Bernice; father-in-law, Murray; as well as extended family members on the Sutherland and Campbell sides.  Penny is survived and will be missed by her loving husband of 43 years, Brad; children: Christine, Craig (Rena), and Stephen (Megan); grandchild, Ella; Penny's only brother, Kelly (Dawn); brothers-in-law, Larry (Rita) and Lorne (Cheryl); as well extended family on both Sutherland and Campbell sides.  She was well loved by all her family.
All in all, Penny loved life, love, and laughter.  She will be greatly missed.
In keeping with Penny's wishes, a Private Family Service will be held.  In lieu of flowers, the family would like to pledge donations towards a sign in memory of Penny, as a project of the Biggar revitalization.  If choosing to donate towards this, please reference Penny or Sutherland when donating to townoffice@townofbiggar.com or phone (306) 948-3317.  Arrangements are entrusted to Moose Jaw Funeral Home, 268 Mulberry Lane.  Andrew Pratt Funeral Director 306-693-4550