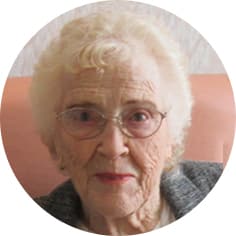 Elsie May Straub (née: Lawrence) passed away peacefully on Saturday, February 8th, 2020 at the age of 98 years.  She was predeceased by her parents, William and Lyla Lawrence; her husband of 64 years, Edward; sons, Ken and Bill; sisters, Viola Robinson and Phyllis Hellings; and brother, Stan Lawrence.  Elsie is survived by her daughters, Darlene (Dwight) Thompson and Jean (Howard) Packard; daughter-in- law, Glenda Straub; 8 grandchildren; 14 great-grandchildren; brother, Jim Lawrence; as well as numerous nieces and nephews.
Elsie was born on the homestead near Caron, SK on January 11th, 1922.  She was the oldest of five children born to William and Lyla Lawrence.  At sixteen she quit school and moved to Moose Jaw to work and lived with her grandparents.  She met Ed Straub at a dance at Temple Gardens and they were married April 6th, 1940.  Elsie spent the first ten years of her marriage raising her four children.  In 1950, when her youngest started school, she started work at the Army and Navy Store and worked there for three years.  She then went to work at Sears until they moved to Regina in 1965. In Regina, she got work at Simpson-Sears working on security for seven years.  After Ed retired, they moved back to Moose Jaw in September 1985.
Elsie and Ed enjoyed camping, fishing and spending winters in Arizona.  Elsie enjoyed crafts such as knitting, crocheting, ceramics and paper toll.  After Ed passed away in October 2004, Elsie stayed in her own home with her dog Lacy and later Carly.  Elsie loved her garden and yard. She enjoyed having her great-grandchildren visit and spoiling them with goodies.  In 2015, after health issues, she sold her house and moved into Crescent Park Retirement Villa. She loved her new home, new friends and caring staff.
The family would like to give a special thank you to the staff of Crescent Park Retirement Villa for the loving care that they gave mom and grandma.
A Celebration of Elsie's Life will be held on Saturday, February 15th, 2020 at 2:00 p.m. in the Harvey room at Moose Jaw Funeral Home.  In lieu of flowers, a donation in Elsie's name maybe made to a charity of one's choice.
Arrangements are entrusted to Moose Jaw Funeral Home, 268 Mulberry Lane.  Todd Sjoberg, Funeral Director 306-693-4550