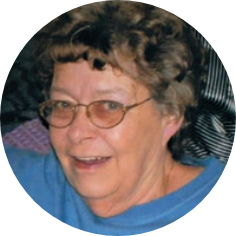 It is with heavy hearts that we announce the passing of our mom, grandma, great-grandma, sister, and friend Jean Susan Stephenson, aged 71 years of Moose Jaw, SK on Tuesday, July 17th, 2018 surrounded by the love of her family at Providence Place.  Jean was born June 13th, 1947 to Peter and Dorothy Trumbley.  The family finds comfort and peace knowing that she is now reunited with her husband, Charlie; beloved son, Steve; brothers, Jim and John; sisters-in-law, Darlene and Dee; and of course her loving parents.  Jean will be lovingly remembered by her son, Jim (Cherie); grandchildren: Tyler Stephenson, Samantha Stephenson, Josée and Luc Pelletier; great-granddaughter, Aeris; brothers: Bob (Cathy) Trumbley, Jeff (Bonnie) Trumbley, Jayson (Gayle) Trumbley, Barry (KathyJo) Trumbley, Brent Trumbley, and Blaine Trumbley; as well as numerous nephews, nieces and extended family.  Jean attended Ross Elementary School and Peacock Technical High School. She met a very special young man who stole her heart and was her one true love, Charlie, they were married May 21st, 1966 and had two boys which completed their family.  Jean's world was her boys which included her 8 brothers, but being a grandma was so very special to her, she loved Ty and Sammy so much.  Her favorite time of year was Halloween, she always dressed up to hand out candy to all the kids. We will always remember her favourite clown costume.  Jean worked at Pittsburgh Glass and then Loomis Courier as a dispatcher for many years. A bit of a spitfire in her younger years, she drove stock cars in the powder puff races on Sundays for Southside Auto Wreckers.  It did not matter to her if she was going fast around the track or a drive with the family, it was the little things in life that made her happy. Jean loved to play all types of games with her brothers, such as dice and cribbage, but the highlight was going to bingo with her Mom.  Later in life, Jean became an avid dart player in the Elks League and was very busy with the Royal Purple. Family was very important to her and she will be forever in our hearts until we are together again. The family would like to thank the amazing nurses and staff from the Providence Place Guardian Grove Unit for their loving and compassionate care over the last few months of Jean's life.  The love and care shown to our Mom will never be forgotten, you are all so wonderful and were truly her guardian angels. In keeping with Jean's wishes, a Private Family Celebration will be held at a later date.  As an expression of sympathy, donations in Jean's name are gratefully accepted to the Alzheimer Association of Saskatchewan, 301-2550-12th Ave Regina, SK S4P 3X1.  Arrangements are entrusted to Moose Jaw Funeral Home, 268 Mulberry Lane. Todd Sjoberg, Funeral Director 306-693-4550
I Never Saw Your Wings
By an Unknown Author
How is it that I never saw your wings
when you were here with me?
When you close your eyes and soared
to the Heavens I could hear the
faint flutter of your wings as you left.
Your body no longer on the side
your spirit here eternally I see your halo shine.
I close my eyes and see the multi-colored wings
surrounding me in the saddest moments and the happiest times.
Mother my angel God has given you your assignment
always my mother forever my angel.
You fly into my dreams and when I am asleep
I feel your wings brush against my face wiping away
the tears I shed since I can no longer hold
you in my arms but in my heart.
You earned those wings dear mother
and you'll always be my angel eternal.