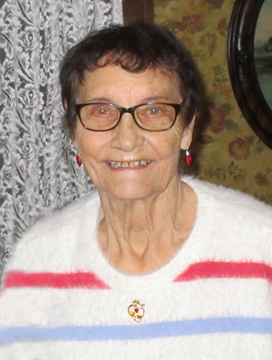 It is with great sadness that we announce the passing of Gloria Mae Stephanson (née: Johnson) on Sunday, August 6th, 2023, at the age of 93 years.
Gloria was born on February 25th, 1930 in Admiral, Saskatchewan, to Carl and Mary Johnson.  Gloria lost her mother at the age of 3 and was raised, along with her sister, by her father.  She attended Blairville School and Admiral High School.  After graduation, Gloria went to BC to help her sister, and then returned to Admiral.  She moved to Moose Jaw, SK in 1949 and started working as a Nurse's Aide at the Providence Hospital.
Gloria married Roy Stephanson in 1950 and they had 4 children together.  She went back to work in 1960 at the Union Hospital as a Nurse's Aide.  In 1973 Gloria went back to school in Regina, SK and graduated in 1974 with an LPN designation.  She retired in 1993 with a total of 32 years of service.  Gloria kept in close contact with a special group of work friends over the years after retiring.
Gloria was a member of the Eagles, Legion, and Anavets Clubs.  She also worked for the Red Cross as a volunteer after retiring.  Gloria loved country music, dancing, bowling, playing crib, shuffleboard, canasta, gardening, flowers, and travelling.  She also liked watching curling and the Blue Jays.
Gloria's greatest joy was watching her children, grandchildren, and great-grandchildren in all of their activities.
She was predeceased by her mother and father; granddaughter, Kathryn Anne; niece, Arlene; the father of her children, Roy; as well as numerous sisters-in-law and brothers-in-law.  Gloria will be lovingly remembered by her best friend and partner, Ray Scheller (daughter, Danielle (David) Bohn and granddaughter Ruby); son, Mel (Diane) and children Darrin (Deidre), Jody (Shawn) Murphy; son, Randy (Marguerite) and children Mandy, Damien (Alyssa), Matthew; son, Darryle (Shelley) and children Tyler (Savon), Stacey, Marcus (Britney); daughter, Diana (Keith) Klyne and children Shawna (Jon) Materi, Chad (Kelsey); Melissa Patterson; 23 great-grandchildren; sister, Leona McNeill and family; as well as many relatives and friends.
Gloria had a beautiful smile that brought joy to everyone.  She was a strong Matriarch to family and friends alike.  She will be dearly missed.  She is now at peace.
Mom's message: "I am proud of all my family.  They gave me a lot of happiness."
Gloria's family would like to thank the St. Vincent's Ward staff at Providence Place for their wonderful care during her last few years.  We truly appreciate you all!
The Funeral Service will be held on Friday, August 18th, 2023 at 1:00 p.m. in Moose Jaw Funeral Home.  Reverend Doug Shepherd will officiate and interment will take place in Moose Jaw Funeral Home Columbarium.  Those not able to attend may view the service virtually by going to www.moosejawfuneralhome.com/webcast/.  As an expression of sympathy, donations in Gloria's name may be made to The Moose Jaw Humane Society, Box 1658 Station Main, Moose Jaw, SK S6H 7K7.  Arrangements are entrusted to Moose Jaw Funeral Home, 268 Mulberry Lane.  Cara Ashworth Funeral Director 306-693-4550