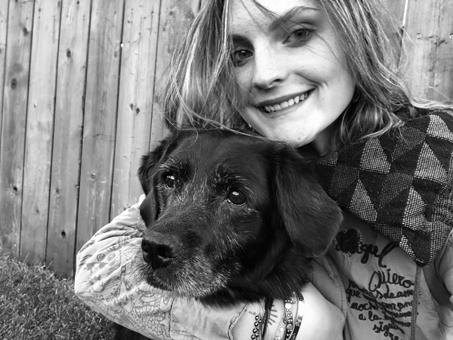 With deep-seated anguish, the family of Sofie Evelyn Stensland announce that she died suddenly on Wednesday, November 24th, 2021.
Sofie's life began in Nanaimo, BC on April 10th, 2000, with a move to Assiniboia, Saskatchewan in 2008 and a relocation to Moose Jaw, Saskatchewan in 2012.  Sofie actively enjoyed gymnastics, swimming, dance and figure skating as a young girl.  With an appreciation for the arts, particularly musical theatre, Sofie participated in numerous productions within the high school musical and RuBarb Productions Company.  After graduating from Peacock Collegiate in 2018, Sofie attended Nord Universitat in Bodo, Norway for one year of additional studies before returning to Moose Jaw in 2019.
Sofie loved all animals and those who captured her heart and shared her life were Flink, Trofast and her beloved Bella.  Christmas was exciting for Sofie and she began listening to holiday tunes in July with her fellow Christmas enthusiast.  Sofie loved to travel and was fortunate to leave her footprints in Norway, several United States, Mexico, Europe, and eight of ten Canadian provinces.  These travel opportunities helped Sofie to recognize and feel compassion for those less fortunate.  She practiced and promoted inclusivity wherever she was, as she believed in fairness and was dismayed by anything biased or unkind.
As a curious individual with a unique perspective on life, Sofie questioned all things and regarded the world around her with a ferocious zeal – a quality many do not possess.  This allowed her to understand and approach life and people with inquisitiveness, enthusiasm and compassion.  Her sense of wonder allowed those who knew her to be drawn to her enthralling and infectious desire of free spirit.  Her wanderlust, to just be was a constant enticement for Sofie.  She felt deeply and those who knew her were magnetically drawn to her unique blend of charm, humour and beauty.  Her periods of profound darkness were palpable to those closest to her.  Sofie struggled with, and courageously addressed, her mental health challenges with grace, insight and introversion.
She was predeceased by her beloved grandmothers: Nanny (E. Jean Johnston of Moose Jaw) and Bestemor (Esther Stensland of Leinesfjord, Norway).  Sofie will be painfully and forever missed by her mother, Jana Garinger of Moose Jaw, Saskatchewan; father, Henry Stensland of Nordskot, Norway; brother, Bjørn Tomas Horsdal (Marte) of Oslo, Norway; sister, Carina Stensland (Truls) and nephew, Casper – all of Bodo, Norway.  Also grieving the loss of Sofie are her aunts: Joni Leonard (Dave) of Saskatoon, Lill Hansen (Hans) of Leinesfjord, Norway, and Ellen Stensland Kråkenes (Bjørn Erik) of Harstad, Norway; numerous cousins including: Jeff Leonard of Saskatoon, Saskatchewan, Jaime Leonard (Kevin) of Regina, Saskatchewan, Arne Willy Hansen (Sissel), Tone Røbech (Terje) Bengt Hansen (Louisa) – all of Leinesfjord, Norway, and Christian, Andreas (Susanne, Ingvild (Knut Helge), Jonas (Therese), and Mathias (Sigrid) Kråkenes – all of Norway.  She will be equally missed by numerous second cousins in Calgary, Alberta: Dave, Shelley, Jennifer, Ryan, Kiel and Carlin Travis; and in Norway (especially Tora Sofie); as well as Sofie's special mom-friends: Shirley Duff of Victoria, British Columbia, Susan Elder of Moose Jaw, Saskatchewan, and Michele Jones of Kelowna, British Columbia.  Grieving her absence, Sofie also leaves behind many special friends from throughout her lifetime, both in Canada and around the world.  
Sofie, you died young.  A beautiful woman.  You are seen.
For those suffering with mental health issues,
please ask for help.
Don't withdraw, don't keep it inside.
Be heard, be seen, reach out. Know that people care.
A Private Family Service will be held to honour Sofie.  As an expression of sympathy, donations in Sofie's name may be made to Free to Be Me Animal Sanctuary, Box 1685, Moose Jaw, SK S6H 7K7 or The Moose Jaw Humane Society, Box 1658 Station Main, Moose Jaw, SK S6H 7K7.  Arrangements are entrusted to Moose Jaw Funeral Home, 268 Mulberry Lane.  Michelle Ellis, Funeral Director 306-693-4550