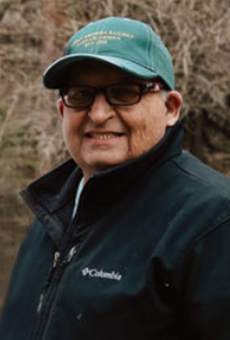 Lee MacDonald Stearns, aged 59 years of Moose Jaw, SK passed away on Saturday, October 30th, 2021 after a 10 year battle with Kidney Disease, Dialysis and other medical complications.  
Lee was born in Moose Jaw and graduated from Vanier Collegiate, where he enjoyed playing football.  He attend SIAST for 6 months taking Engineering and Drafting before moving on to becoming a Hairdressing Apprentice at his dad's salon, Select Coiffure.  In later years Lee became a business partner and worked at the salon for 39 years.  During this time, to help support his family, Lee took on part time work as a School Bus Driver for Prairie South School Division, an Airbrush Artist for Orion's Taxidermy and engraved headstones for REMCO Memorials.
Lee's greatest passion was for Airbrush Painting.  He worked on many projects in the area including the Marquis sign, Park Hotel, gym door at Peacock Collegiate, and Westmount School.  He taught airbrush classes at the Moose Jaw Art Museum and worked on motorcycles, cars, murals, canvases, helmets, t-shirts, costume make-up and more.  Lee enjoyed doing auto body work and fixing up cars, and was working on a 1956 Chevy Panel Van at the time of his passing.
When Lee married Donna, he learned how to windsurf, enjoying many weekend and holiday destinations.  He enjoyed boating, fishing, and golfing.  As a young boy, he learned how to downhill ski and become involved with White Track in several capacities for many years.  
Lee loved his dog Blue, who kept him warm and was good company.  Most of all, Lee cherished his grandchildren and couldn't stay away from them more than a day or two.  They filled his heart with joy.  
Lee is survived by his wife of 36 years, Donna Stearns; son, Dustin (Brittany) Stearns; grandchildren: Keaton, Freyja, and Eden; son, Matthew Stearns (Bree); grandchildren, Maggie and Kaden; daughter, Samara Stearns (Kristian); parents, Gary and Bernie Stearns; sisters: Jody Novak and her children Jennifer and Kevin (Connie), and Vicki (Mark) Keller and their children Megan and Nikki (Adam).
A Celebration of Lee's Life will be held on Saturday, November 6th, 2021 at 1:00 p.m. in Moose Jaw Funeral Home with Pastor Larry Hasmatali officiating.  Those unable to attend are invited to view the service virtually by going to www.moosejawfuneralhome.com/webcast/.  As an expression of sympathy, donations in Lee's name may be made to the Dialysis Unit at the Dr. F.H. Wigmore Regional Hospital c/o Moose Jaw Health Foundation, 55 Diefenbaker Drive, Moose Jaw, SK S6J 0C2.  Arrangements are entrusted to Moose Jaw Funeral Home, 268 Mulberry Lane.  James Murdock, Funeral Director 306-693-4550