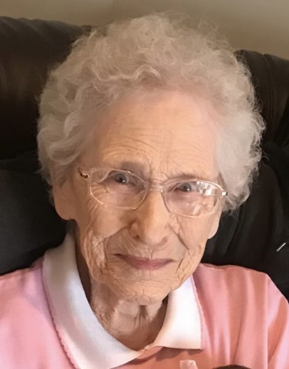 Susan Bernadine Stapleton
October 2nd, 1929 to May 13th, 2022
It is with profound sadness that we announce the passing of our mother, grandmother, and great-grandmother, "Gramma Sue", Susan Bernadine Stapleton, aged 92 years of Moose Jaw, SK on Friday, May 13th, 2022.  Susan was born the third of four daughters to Joseph and Cecilia Menz at the farm near Dendron, west of Hodgeville, SK.  She was predeceased by her husband of 42 years, Cecil Stapleton; parents, Joe and Cecilia Menz; sisters, Agness (Harvey) Schaitel of Neipath, SK and Rose (Leonard) Swales of Kaleden, BC; and parents-in-law, Clarence and Muriel Stapleton of Moose Jaw.  Susan is survived by her son, Doug (Doris); grandsons, Greg (Sarah) and Ryan (Cielle); son, Rodney (Charlene); grandson, Jeffrey (Brandy); granddaughter, Michelle (Reece); and great-granddaughters, Leia and Emma.  She is also survived by her sister, Elaine Balcain of Hamilton, ON; sister-in-law, Elinor Powel of Vancouver BC; nephews, Randy Schaitel and Michael Balcain; nieces Allanna Balcain and Leah Reynolds; as well as her special friend, Marlene Luciak.  Susan also loved dogs and had a special place in her life for her furry great-grandsons: Luka, Oddis, Axel, Sammy, and Koby.
Susan grew up on the farm near Dendron during the 1930s.  She and her sisters helped out with the many chores including gardening, tending the livestock, and even helping with the stooking during harvest.  She attended Edinburg School, which was about 2 miles east of the farm.  Susan was fond of athletics from an early age, playing soccer and baseball at school.  When Susan got older, she moved to Swift Current, SK to attend High School where she became involved in women's fastball.  She was soon recruited to the Moose Jaw Royals in 1949 and played with players that went on to a professional women's league in the US.  Susan later played for the Uptown Café women's team from 1951 to 1955, winning the Saskatchewan Championship in 1955.  The team's picture still proudly hangs at the Uptown Café.
Susan found a job at Palm Dairies in Moose Jaw when she moved in 1949.  She made ice cream and met her future husband Cec, who was a Milk Wagon delivery driver and later manager of the Dairy.  They were married in September 1949 until his passing in September 1991.  She later moved to Johnstone Dairies where she continued in the ice cream making business.  When her two sons came along, she became a stay-at-home mom and was very good at it.
Susan was able to continue her love of sports with bowling, curling and, later in life, golf.  She won the city senior women's 9-hole championship on more than one occasion.  She was also an avid Rider, Blue Jays and Warrior fan, attending many games at the Civic Centre with Cec.
One of Susan's many talents was gardening.  Particularly her ability to turn our yard into a dazzling display of flowers every season, a fitting tribute to her farming roots.
Susan was close to her family and friends over the years while adding new ones at Chateau St Michaels and The Bentley.  She will be missed by all of us who were lucky enough to have her in our lives.
Special thanks to the nurses and staff at Ross Payant Nursing Home in Assiniboia, SK and Providence Place Moose Jaw, and to Dr. Vermaak. 
A Memorial Service to honour Susan will be held on Wednesday, July 27th, 2022 at 1:00 p.m. in Moose Jaw Funeral Home. Dave Foley will officiate.  Those unable to attend are able to view the service virtually by going to www.moosejawfuneralhome.com/webcast/. In lieu of flowers, donations in Susan's name may be made to the The Moose Jaw Humane Society Box 1658 Station Main Moose Jaw, SK S6H 7K7.   Arrangements are entrusted to Moose Jaw Funeral Home, 268 Mulberry Lane.  Michelle Ellis, Funeral Director 306-693-4550