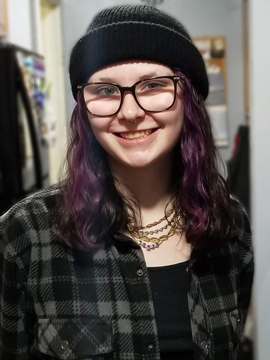 January 25th, 2006 – June 9th, 2023
Kira Jaelynn Stadnyk aged 17 years of Moose Jaw, SK passed away on Friday, June 9th, 2023.  Kira will be forever loved and missed with immeasurable sadness by her parents, Warren and Catherine Stadnyk; sister, Adrianna Stadnyk; grandparents: Rene and Rosalie Marcil, and Ted and Roxanne Stadnyk; uncle Joshua and aunt Rebecca Marcil; aunt Melanie and uncle Richmond Hill; aunt Corey and uncle Jon Bosko; cousins: Wyatt and Jesse Marcil, and Morgahn, Aeralyn, and Alistr Bosko; numerous extended family and a few special friends.  Also missing her terribly are her puppers, Simba and Koda.
Kira's smile, laugh, and enormous caring heart are what we want everyone to carry in their memories.  Her empathy and love for all she cared about was something she wore on her sleeve.  She gave the best, biggest hugs and never missed a chance to say "I love you".  She had a passion for art, music, and fashion.  She loved to draw and colour, take photos of sunsets and selfies with Koda, listen to her favorite music artists, and make endless TikTok videos.  Her hair colors and styles, her nose rings and clothing (especially the ever-present beanies, plaid shirts, and hoodies) were so much a part of her personality.  All the memories of time spent with her will be cherished and kept alive in our hearts forever.  
As animals were an important part of her world, donations in Kira's name to The Moose Jaw Humane Society, Box 1658 Station Main, Moose Jaw, SK S6H 7K7 would be fitting if so desired.
A Celebration of Kira's Life will be held on Friday July 21st, 2023 at 1:00 p.m. in Church of our Lady, 566 Vaughan St, Moose Jaw, SK.  
Never Forgotten
I think of things you used to say
And all that you would do.
At some point, every single day,
My thoughts will turn to you.
To lose you was a bitter wrench,
The pain cut to my core.
I cried until my tears ran out
And then I cried some more.
This wouldn't be your wish for me
That I'd be ever sad
So I try to remind myself
Of happy times we had.
I know I can't be with you now
And you can't be with me
But safe inside my heart you'll stay;
That's where you'll always be.
-Poem by Ms Moem-
Arrangements are entrusted to Moose Jaw Funeral Home, 268 Mulberry Lane.  Gary McDowell, Funeral Director 306-693-4550