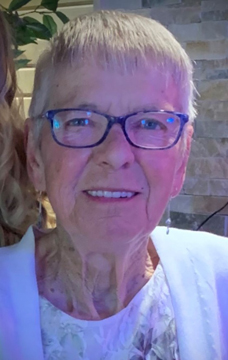 Denise Arlene Sperling (née: Juhnke) was born Sept 20th, 1947 and passed away on Sunday, August 21st, 2022 at the age of 74 years.  She was predeceased by her parents, Martin and Hazel Juhnke; Trent Meshka, Randy Mangel, Earl Johnson, Curtis Juhnke and Sandy Juhnke.
Denise was raised on a farm and married her high school sweetheart Lloyd.  They just celebrated their 57th Wedding Anniversary.  She loved the farm, the hard work that goes with it, and was always ready to lend a helping hand.  She loved to garden, bake, do crafts and read.  A huge love was music and she especially enjoyed the family gatherings where the Sperling Clan performed.  We were incredibly blessed to have just gathered this past week for a family celebration on the family farm!
Denise will be forever loved by her husband, Lloyd; daughters, Kim Ehman (Terry) and Joan Mangel-Ackerman (Clayton); son, Shawn Sperling (Wanda); grandchildren: Kyle (Courtney), Brenan (Nicole), Jaden, McKenna (Rob), Jolene, Jazmin, Shaelyn (Damian), Brittney (Logan), and Sydney; great-grandchildren: Sophie, Olivia, Evelyn, Flynn, Lennon, Aidan, Cali, Brynlee, and Laykin; sister, Myrna Meshka (Clifford); brothers, Don Juhnke (Jan) and Daryl Juhnke; nephews and nieces: Scott (Dawn), Wyatt (Jennifer), Jeffrey (Diane), Cameron (Dianna), Tabatha (Andy), Jeremy (Crystal), Stephanie, Beth (Brandon), Cory, and Samantha (Shawn); as well as numerous family members and friends.
A Celebration of Denise's Life will be held on Saturday, September 24th, 2022 at 1:00 p.m. in Moose Jaw Funeral Home.  Reverend Bob Langdon and Ann Marie Francis will officiate and interment will take place in Craik Cemetery.  Those not able to attend may view the service virtually by going to www.moosejawfuneralhome.com/webcast/.  Those so wishing may make donations in Denise's name to the Allan Blair Cancer Centre c/o Pasqua Hospital, 4101 Dewdney Ave, Regina, SK S4T 7T1, as they supported her throughout her journey.  Arrangements are entrusted to Moose Jaw Funeral Home, 268 Mulberry Lane.  Todd Sjoberg, Funeral Director 306-693-4550