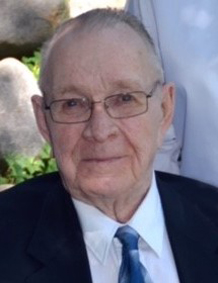 The family of Gordon James Spearman sadly announce his passing on Saturday, March 20th, 2021.  Gordon was born on the family homestead near the Fairy Glen/Brockington area to Orval and Isabelle Spearman on July 14th, 1932.
Gordon had a passion for music and a talent for playing various instruments such as the keyboard, guitar, mandolin and accordion.  As a young child, he and his younger brother Lloyd played together for the local radio station, and later he performed for many different dances and some weddings.  His love for music continued into his career.  He worked for Blackwell's Piano and Organ in Moose Jaw, SK and later at CJVR radio station in Melfort, SK where he became well known as O.T. (Old Timer).  Upon his retirement, he returned to Moose Jaw to be closer to his family.
He was predeceased by his parents, Orval and Isabelle; sister, Jeanette; brother, Lloyd; twin granddaughters, Joanne and Janice; and the mother of his four sons, Doreen.  Gordon is survived by his sons: Murray (Margie), Sheldon (Bev), Alan (Jeanne), and Scott (Barb); grandchildren: Karen (André), Diane, Stephen (Shari), Ian (Logan), Andrew (Krystal), Caitlyn (Bobbie), Jaydi (Rob), Chantai, and Shandell; and 11 beautiful great-grandchildren.
The family wishes to express their gratitude to Crescent Park Retirement Villa and their impeccable staff for consistently going above and beyond, and for their compassion and care for Gordon during his time there.  
A Private Family Interment will be held at a later date.  Flowers are gratefully declined.  As an expression of sympathy, donations in Gordon's name may be made to The Moose Jaw Humane Society, Box 1658 Station Main, Moose Jaw, SK S6H 7K7.  Arrangements are entrusted to Moose Jaw Funeral Home, 268 Mulberry Lane.  Todd Sjoberg, Funeral Director 306-693-4550