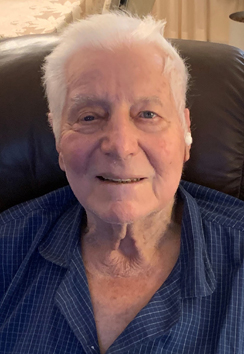 Lawrence John Sommerfeld, aged 86 years of Moose Jaw, SK passed away on Friday, April 22nd, 2022 after a courageous battle with cancer.  He was predeceased by his parents, John and Katherina Sommerfeld of Swift Current, SK; and Michele Gamble, daughter of Lorrie Gamble.  He is survived by his brother, Rodney Sommerfeld and his sister, Linda Dyck both of Medicine Hat, AB.  Lawrence will be lovingly remembered and dearly missed by the love of his life of 41 years, Lorrie Gamble; her grandchildren Tiffany and Tyson, and her great-grandson Hudson.  Larry was the first man in Saskatchewan to obtain custody of four children in 1970 and his surviving children have viewed their father as a hero for his personal sacrifice he made to raise them while working with the Royal Canadian Air Force.  His children are Gilbert (Lynn), Dr. Karen Sommerfeld- Forge (David), Debby Dombowsky (Michael), and Judy Lans (Rodney).  Larry's grandchildren are Stephen (Cher), Braden (Nina), Levi, Jesse, Elise Markin (Daniel), Emily, Luke, Josiah, Heidi, and Sterling; and 12 great-grandchildren.
Larry enlisted in the RCAF in 1955 as an aero-engine technician and was stationed in Winnipeg, MB, Trenton, ON, and in 1967 was transferred to Moose Jaw where he worked with the Air Force until he retired in 1978 after 23 years of service.  He enjoyed a few years of employment at CPR as a brakeman while he was pursuing his love of the land and purchasing a farm near Pasqua, SK.  
Larry enjoyed hunting, farming, raising cattle and chickens, and giving away eggs to many people.  Larry's favorite hobby was to restore or rebuild vehicles, almost exclusively Fords!!  His dear friend, Wayne Alm, worked alongside him on many vehicles.  Their notable accomplishment was a 1952 Ford 1-Ton truck that they modified, rebuilt and sold to Knight Ford Lincoln, where it sits on display in front of the dealership.  In earlier years Larry had also enjoyed drag racing, stock car racing, boxing, working on his antique cars, and giving his kids rides in the rumble seat of the 1928 Model T which they thoroughly enjoyed!  Larry faithfully took his children to the Apostolic Church Sunday School, kids clubs, youth groups and Kedleston Camp. 
The family would like to express their sincere appreciation to the staff on the 2nd floor at the Dr. F.H. Wigmore Regional Hospital, to Dr. G.B. Van Heerden, and to all the caring nurses and staff on the Raphael Wing of Providence Place.  Although Larry was a little 'crusty' on occasion, he often expressed his appreciation for the wonderful care he received from his several 'favorite' nurses! 
A private family memorial gathering is planned in the future.  Arrangements are entrusted to Moose Jaw Funeral Home, 268 Mulberry Lane.  Todd Sjoberg, Funeral Director 306-693-4550