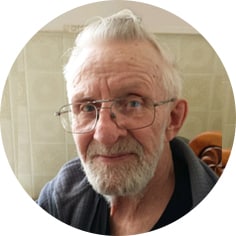 Harold Glenford (Carl) Somerville
The funeral service will be postponed until a later date.
Harold Glenford (Carl) Somerville, aged 83 years of Moose Jaw, SK passed away peacefully at home on Tuesday, February 18th, 2020 with his family by his side.  Carl was born in Dominion City, MB on January 17th, 1937.  He spent his early years in Manitoba and enlisted in the Canadian Army in 1957, joining the Queens Own Rifles, and was honorably discharged in 1964.  Carl met Eunice in 1965 and, along with her 10 children, began a life in Moose Jaw. They even added one more child to the family. Carl and Eunice raised their grandson Michael as one of their own.  Carl worked at many different jobs in and around Moose Jaw. He worked at CP Rail, Valley View Centre, Security, was a driver for the Moose Jaw Trolley, and finally as a School Bus Driver. He loved looking after "His" kids while taking then to and from school.  He received is nickname "Carl" from Carl Perkins, as he was an excellent guitar player. Carl was a loving husband, father, and grandfather. He cherished time spent with family. The last few years were very exciting as he reunited with his sister Evelyn, meeting her five children: Richard, Brenda, Steve, James (Doc) and Janice.  He also reconnected with his two sisters Linda and Judi, and his two brothers Neil and Bill. He was predeceased by his parents, James and Susan; sister, Evelyn; and brother, Neil. He also lost his beloved Eunice and children Dennis, Dwayne, Larry, Judy, Kathy, Brenda and Sharon. Carl will be lovingly remembered by: Carol (Ken), Darlene (Darrell), Dale and Debbie (Harley); grandchildren: Jim, Michael, Darrin, Chantelle, Carol-Ann, Kim, Rhonda, Debbie, Tanya, Mark, Sherri-lynn, Melissa, Shandi and Connor; brother, Bill (Cathy); sisters, Linda and Judi; sister-in-law, Faye; as well as numerous other relatives.  The Funeral Service will be held on Saturday, March 21st, 2020 at 1:00 p.m. in Moose Jaw Funeral Home.  Celebrant Dave Foley will officiate and Legion Rites will be conducted by Sharon Erickson of the Royal Canadian Legion Branch #59.  Flowers are gratefully declined. As an expression of sympathy, donations in Carl's name may be made to The Moose Jaw Humane Society, Box 1658 Station Main, Moose Jaw, SK S6H 7K7.  Arrangements are entrusted to Moose Jaw Funeral Home, 268 Mulberry Lane. Todd Sjoberg, Funeral Director 306-693-4550.