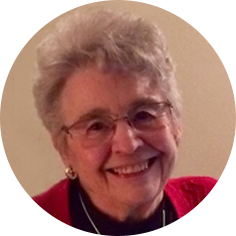 SHIRLEY ANNE MARIE SMITH (née: Prizeman)
It is with great sadness that the family of Shirley Smith announce her passing on Friday, January 26 th , 2018. Shirley was born in Regina, SK on December 29 th , 1935, the youngest of 5 children, and later moved to Moose Jaw with her parents. She received her schooling at the Convent of Zion. Shirley married Glen Smith on September 26 th , 1956 and together they raised 4 children. She was employed at various businesses such as Prentice Jewelers, the Grant Hall, Super 8, and St. Anthony's Home. Shirley was active in Kinette's and served as President. She also sang at weddings, funerals, and many other functions. She was predeceased by her parents, William and Victoria Prizeman; husband, Glen (Baldy) Smith; son, Jeffery; sisters, Yvonne Kemp and Audrey Greenway; and brothers, Douglas and Bill Prizeman. Shirley will be lovingly remembered by her children: Martin (Polly Veroba), Darrin (Marilyn), and Glenda (Rose Streick); grandchildren: Bria (Brad) Kaine, Derek (Cassie
Pavitt), and Kristianne; great-grandchildren, Hailey, Hunter and Hudson Kaine; as well as numerous nieces and nephews. The Smith Family invites you to join them in celebrating Shirley's life on Saturday, August 4 th , 2018 at 3:30 p.m. at the Church of Our Lady
Reception Hall, 566 Vaughn St, Moose Jaw, SK.