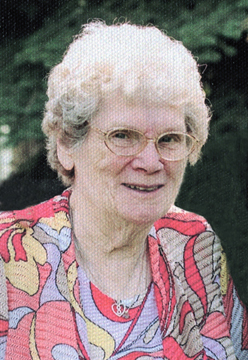 GAIL SMITH (née: Stephanson)
It is with great sadness that we announce the passing of Gail Smith (née: Stephanson) on Sunday, February 26th, 2023 at the age of 82 years.
Gail Harriet Natalie was born in Frontier, SK on September 19, 1940, the 11th of 14 children.  Despite being big, the family was close as shown by the frequent family reunions over the years.
At 18 years old Gail's life changed forever.  Her brothers, Roy and Gary introduced her to their friend and co-worker, Herbert Smith.  Love soon followed and the two married on December 12th, 1959.  Her true calling in life, which was second only to being a grandmother, was shortly revealed when she became a mother.  She exemplified what it meant to be a mother by working tirelessly to support her 3 boys: Kelly born in 1960, Kevin in 1962, and Kent in 1966.  Gail supported her boys with everything, including their jobs, schoolwork, and sporting activities.  Sports was a very important and significant part of their lives.  She spent countless hours volunteering, driving to baseball and hockey, and cooking endless pre-game and post-game meals in between washing and mending uniforms.  She enjoyed every minute of it. 
While Gail supported the boys in every sport they played, baseball was her favourite.  She became one of the most skilled scorekeepers in not only the city but the province as well.  A baseball diamond in Moose Jaw was named after her in recognition of her love, devotion and support for her sons' participation in the game.  A diamond at Park Hill Little League Diamonds proudly displays the sign "Gail Smith".  One of Gail's favourite pastimes was to sit with Herb and watch the Blue Jays.  
Being a grandma and ultimately a great-grandma would have been something Gail may have been better at than being a mom.  Her 11 grandchildren and 18 great-grandchildren absolutely adored her.  She was a very loving and completely non-judgmental Mom and Grandma, which formed such a deep and loving bond with her family.  Her selfless dedication and devotion to her entire family really was something amazing.  All her grandkids would make special trips to visit her, including the ones who regularly visited Moose Jaw to see her.
Herb and Gail have been a team for 63 years and you hardly ever heard of or spoke of one without the other.  It was always "Herb and Gail or Dad and Mom or Grampy and Grammy".  Through thick and thin, on numerous rinks, diamonds, and football fields all over North America, they stood by each other's sides and built a beautiful life together.  Herb was beside Gail during her passing, holding her hand and talking to her.  As everyone knows, she was much more the listener than the talker.
Gail was well loved and thankfully knew that without question.  Words cannot even begin to express how much she will be missed.
Gail leaves behind three sisters who were very special to her: Sylvia Stephanson, Sharon Grant, and Karen (Larry) Ireland.  Gail will be sadly missed and lovingly remembered by her devoted husband, Herb; son, Kelly (Nancy) and his children with Debbie:  Denny (Teresa), Lily and Amelia, Chrystal (Michael), Emma, Blake and Taylor, and JoLee (Mac), Hannah, Austin, Ava and Chloee; son, Kevin (Anna-Marie) and their children Taylor (Chelsea) Takeo, Veiko, Poppy, Rapha and Titus, Zoe (Dustin), Callie, Peyton, Emma and Colton, Zebulon (Alanda); and Xyrus (Katie); son, Kent (Joanne) and their children Josiah (Chelsea), Zachary (Megan), Levi (Tori) and Benjamin (Andrea); as well as numerous nieces and nephews.
The family expresses their thanks and appreciation to the doctors and staff at the Dr. F.H. Wigmore Regional Hospital for their support and compassionate care given to Gail during her illness.
A Memorial Service will be held on Friday, May 19th, 2023 at 1:00 p.m. in Moose Jaw Funeral Home.  A private family interment will take place in Sunset Cemetery.  Those not able to attend may view the service virtually by going to www.moosejawfuneralhome.com/webcast/.  In lieu of flowers, donations in Gail's honour may be made to the Moose Jaw Little League, Box 324 325 4th Ave SW, Moose Jaw, SK S6H 5V2.  Arrangements are entrusted to Moose Jaw Funeral Home, 268 Mulberry Lane.  Andrew Pratt Funeral Director 306-693-4550