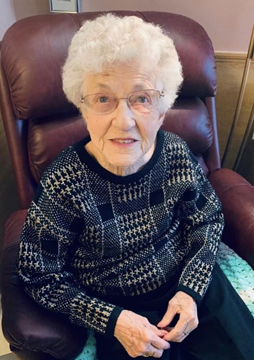 The family of Florence Norinne Smith, aged 96 years of Moose Jaw, and formerly of the Assiniboia/Verwood district, SK announce the passing of their mother, grandmother, great-grandmother, and great-great-grandmother on Sunday, September 25th, 2022 at Providence Place.
Florence was born in the Verwood District, SK on August 8th, 1926.  She grew up on the family farm, with her being the 5th born out of eight children.  Florence would always reminisce about her days growing up on the family farm.  She told of how her sister Doris and herself would go in the field with their dad to do the stooking.  At first their arms got very sore, but their dad told them not to use their arms, only their hands with gloves on.  Florence also told of how her and Doris had to bring the cows in from the pasture and how terrified they were if the bulls were there.  Florence said they carried a big stick and hung onto one another.  Another thing Florence did not like was gathering the eggs and the clucks pecking at her hands.
On the farm there was a variety of animals.  The majority of the animals had been named.  Florence's dad had a total of 17 horses on the farm.  Florence and her sibling's horses were a pair of blacks with white blazes on their face.  They would have to hitch up their horses, Jack and Petty, to take them back and forth to school, and sometimes take their mom into town to the store.  Her dad's horses were a pair of greys named Dimples and Maggie.  The name Dimples coming from a dimple on her derriere.  Florence remembers one winter how they had run out of coal.  Her dad hitched up the pair of greys and headed to the Verwood coulees for a load of coal.  A blizzard struck, making it impossible to see and her dad got lost.  Her dad wrapped the reins and gave the horses the lead.  Their excellent sense of direction got her dad home safe and sound.  He was nearly frozen, but he still had to shovel the coal (with the boy's help) into the basement through the window.  The horses spent the night in the barn and got an extra treat that night.
Florence said her and her siblings would love it when their Grandma Domes would come.  She would always do a bit of magic and pull a coin out of their ears.  It was enough for them to buy a small bag of candy from the store.  Her grandma would also pay her and her brother Ben a penny for each gopher tail they accumulated from snaring gophers.
When Florence finished her schooling, she continued her studies to become a teacher at Normal School (now SaskPolytech) in Moose Jaw.  She was used to being around a large family, so she was lonesome and spent her time down at the train station waiting for someone from home to get off the train to visit with.  When she graduated, she taught at various locations including Ogema, Gravelbourg and Viceroy, SK.
Florence and Fred began a courtship.  They had known each other since childhood as they attended the same school and church.  Florence and Fred were married on November 26th, 1948.  They settled in the town of Verwood as Fred had established a farm there.  After they were married, their farm experienced a severe dry spell, so they moved to Winnipeg, MB in hopes of finding jobs.  They were able to stay in Fred's sister's basement suite.  Fred got a job as a truck driver and Florence got a job at the Millinery shop making hats.  She later got a job at Eatons, which she liked much better.  When the farming had improved, they packed up and moved back to Verwood to continue with the farming.  Florence used to take the meals out to the field so the men wouldn't have to stop and drive into town.  During harvest, she drove the grain truck and unloaded the grain into the bins.
Florence and Fred had three daughters: Judith Elaine, Kathey Dianne, and Brenda Lee.  Once they started a family, they purchased a larger house across the street from where they were living.  Florence and Fred raised their family in this house and many memories were made there.  When the girls got older, Florence obtained a job with the Readlyn Rural Telephone Company as the secretary treasurer.  She remained in this position until the company was dissolved.  Florence then obtained a position as a care aid at the Pioneer Lodge in Assiniboia, SK.  Florence and Fred would rent a house in Assiniboia for the winter so Florence wouldn't have to drive.  When Fred passed away, Florence had a house built in Assiniboia, rented out the farm, and sold the house in Verwood.  She loved her job as a care aid and worked this position until her retirement.
Florence was a very well-kept lady who took pride in her appearance.  She was always dressed neatly and her hair always styled nicely.  She was always on the ready to pitch in and help out with grandparenting duties whenever and for as long as she was needed.  Florence and Fred were wonderful grandparents and their grandchildren loved them very much.  Florence was known for her compassionate and giving nature, as she would help out with looking after family members and some of her neighbours.  She loved playing cards, especially cribbage, and many a weekend was spent doing just that with whoever happened to drop in or with her brother Ben and neighbour and friend Mae Domes and her son Ross.
Florence will be missed greatly by her daughters and all of her grandchildren, plus all the people that she called friends and relatives.
She was predeceased by her husband, Fredrick Smith; daughter, Judith Stensrud; sons-in-law: Warren LaVallee, Kenneth Stensrud, and Jeffrey Lutz; siblings: Arnold (Florence), Leona (Edward), Elmer, Doris, Bernard, and Rita (Al); brother-in-law, Don Storey; and parents, Ferdinand and Marie Domes.  Florence is survived by her daughters, Kathey Mitchell (William) and Brenda Lutz (Guy); sister, Lois Storey; grandchildren: Ryan Mitchell (Cathy), Lindsay Mitchell (Rob), Kirk Stensrud (Michelle), Craig Stensrud (Madison), Kelly Smith (Kira), and Coralie Potetz (Ryan); great-grandchildren: Katelynn, Ethan, and Macy Mitchell, Kieran, Valor, William, and Meghan Schmidt, Ben and Olivia Smith, Atticus and Archer Potetz, and Isaac Stensrud; and great-great-grandchild, Eli Schmidt.
The Funeral Service will be held on Saturday, November 26th, 2022 at 1:00 p.m. in Moose Jaw Funeral Home.  Celebrant Dave Foley will officiate and interment will take place at Mount Hope Cemetery in Assiniboia, SK.  Those not able to attend may view the service virtually by going to www.moosejawfuneralhome.com/webcast/.  As an expression of sympathy, donations in Florence's name may be made to a charity of one's choice.  Arrangements are entrusted to Moose Jaw Funeral Home, 268 Mulberry Lane.  Andrew Pratt Funeral Director 306-693-4550