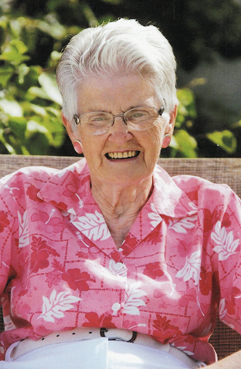 Clara Anna Smith passed away peacefully on Thursday, June 9th, 2022 in the presence of family.  She was predeceased by her dad, George Edward Smith; mom, Dorothy Zelda Smith; younger brother, George Edward Smith; as well as her aunts and uncles.  Clara is survived by her brother, Bill (May)Smith; her children and grandchildren: Donna, Tanner, and Shaleen Rigden; Fred (Terry), Blake, and Jordan Tremblay; Bill (Maureen), Kevin, Michael, and David Tremblay; John (Becky), Tennille, and Ramsay Tremblay; Lee (Val), Mason, Ashlyn, and Brielle Cottreau; her great-grandchildren: Rhylan, Reed, Rhielle, Lincoln, Luke, Riley, Bentley, Cora, Vada, Bryce, Brock, Nash, and James; and by numerous nieces, nephews, great-nieces, great-nephews, and cousins. 
Clara was born at home in the Parkbeg, SK area on July 9th, 1936.  She grew up on a farm in the area where she learned the value of hard work.  Clara worked hard all her life and valued that trait in others.  She moved many times and has lived in Alberta, Saskatchewan, and Nova Scotia throughout her lifetime.  Her favourite places to live were on the farm where she was raised and on the Black Cat Guest Ranch where she worked as a cook for a number of years.
Clara liked cats and dogs, but horses were her favourite animal.  She rode when she was younger and would talk fondly of the horses they had on the farm when they were growing up.  She liked to garden and was proud of how much produce she could grow in her raised beds at the Yara Community Gardens.  She willingly shared her vegetables with family and friends, and donated generously to the farmer's markets that the garden held, along with canning and home baked goods.  
Clara was never bored and always had something to do.  She liked to read, do word searches, listen to country music, and watch the Toronto Blue Jays.  Clara liked to cook and her "grandma buns" were the best and will be missed by the entire family.  She also liked to sew and made all her own clothes, including her square-dancing outfits during the time she square danced.  She enjoyed quilting and made many, many quilts including two she finished just prior to her becoming ill.  She most liked making baby quilts that she gifted to all her new great-grandchildren and made full sized quilts for her older family members over the years.
Clara had the gift of staying connected with people that she met throughout her lifetime and always did her Christmas phone calls to people across Canada.  She valued her family and said all her children were her favourite.  She talked fondly of her Mom and Dad, loved her brothers, and greatly missed George when he passed away.  She admired her older brother, Bill and thought of May, his wife, as her sister. 
We will miss you Mom.  As you always ended every conversation – Bye for now.
We wish to express our thanks to Dr. Ava McDonald for her care and compassion of mom, as well as the staff at Pioneer Lodge where mom spent the last two weeks of her life.
The Funeral Service will be held on Tuesday, June 21st, 2022 at 11:00 a.m. in Moose Jaw Funeral Home.  Pastor Marvin Seaborg will officiate and interment will take place in Sunset Cemetery.  Those unable to attend are able to view the service virtually by going to www.moosejawfuneralhome.com/webcast/.  In lieu of flowers, donations in Clara's name to the Yara Community Gardens would be gratefully accepted.  Mom asked that the money donated be contributed to operating costs because in her words "water is expensive" and it costs money to maintain the gardens.  Arrangements are entrusted to Moose Jaw Funeral Home, 268 Mulberry Lane.  Cara Ashworth – Intern Funeral Director 306-693-4550