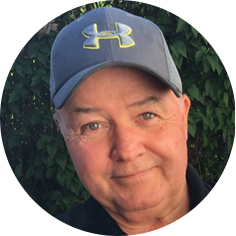 It is with profound sadness that we announce the passing of our beloved husband, father, papa, brother, son, neighbor, and friend, Barry Roy Smith on Monday, August 3rd, 2020.  Barry passed away peacefully in his home with his loving family by his side, after a courageous battle with bile duct cancer. 
Barry was born on November 15th, 1955 in Moose Jaw, Saskatchewan.  He attended St. Mary's and Vanier Collegiate.  He married the love of his life and best friend, Gail, in 1977 and spent 43 years dedicating his life to his wife and family.  Smitty's career spanned over three decades with the Canadian Pacific Railway, where he met many lifelong friends.  In their retirement years, Gail and Smitty worked as a team, following their passion with Smitty's Creations, making many beautiful wood works of art that will leave a legacy of his incredible talents for many years.  
Anyone who met Smitty was drawn to his kind and caring nature.  He was humble and selfless; always going out of his way to help others and never asking or expecting anything in return.  He truly had the "gift of gab" and could make a three-minute story into a half hour conversation.  Smitty could light up a room with his larger than life personality, infectious laugh, and beautiful smile.  We have heard from many people that the neighborhood will never be the same.  He spent many summers camping with his family and was his kid's biggest fan, rarely missing one of their many activities.  He was a very proud father.  Smitty was an avid sports fan, who loved both the Saskatchewan Roughriders and the Toronto Maple Leafs.  He enjoyed golfing, fastball, and in recent years, watching his grandchildren in their sporting adventures.  He loved going on gambling trips with his wife and truly enjoyed the little things in life like working on a Sudoku puzzle or trying to master the next level in Candy Crush.  He will be remembered for his beautiful yard, his love for dogs, being an amazing cook, and the sparkle that was present in his eyes during all holiday seasons, especially Christmas.   
The most important thing to him was his family.  He was the most hands-on and involved papa.  He has eight gorgeous grandchildren who idolize their "Papa".  When his grandbabies were around, his knee or hands were never free and he could be found on the ground playing, in the shop teaching, pushing a swing, dancing, or planning fun activities to make them happy.  They meant the world to papa.
He was predeceased by his father, Thomas Roy; father-in-law, Lawrence Dick; and sister-in-law, Dianne Kolybaba.  Barry will be lovingly remembered by his soulmate and wife of 43 years, Gail; his children: Brad (Karen) Smith and their children Campbell, Layney, and Kynley, Tamra (Brad) Birnie and their children Dylan, Myla, and Brody, Kailey (Tanner) Gillies and their children Maisie and Adelyn; mother, Gisele Smith; sister, Claudia (Gord) Berscheid; sister, Tracy Smith; mother-in-law, Vina Dick; brother-in-law, Ken Dick; sister-in-law, Sandra (Tom) Rogers; his best friend and furry sidekick, Missy; as well as numerous nieces and nephews, and many close friends.  
The family would like to extend a sincere thank you to Palliative Home Care for their loving treatment of Barry and his family during his final days.  Due to COVID-19 restrictions, a Private Memorial Service for Barry will be held.  A viewing of the service will be available on Monday, August 10th, 2020 at 2:00 p.m. at www.moosejawfuneralhome.com/webcast.  As an expression of remembrance, donations in Barry's name may be made to The Moose Jaw Humane Society, Box 1658 Station Main, Moose Jaw, SK S6H 7K7 or Five Hills Health Region Palliative Care, 55 Diefenbaker Drive, Moose Jaw, SK S6J 0C2.
Our team is now missing our most important member, but we promise to do all we can do to "Keep our Sticks on the Ice".
We love you, Papa.
Arrangements are entrusted to Moose Jaw Funeral Home, 268 Mulberry Lane.  Andrew Pratt Funeral Director 306-693-4550