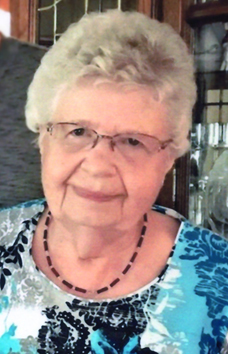 Alice Shirley Darlene Smith
With great sadness the family of Alice Shirley Darlene Smith (née: Linquist), aged 82 years of Moose Jaw, SK, mourn her passing on Sunday, March 20th, 2022. 
Alice was born on November 22nd, 1939 in Riverhurst, SK and was raised on a farm near Calderbank, SK.  On April 18th, 1960 she married Vern Smith.  They worked together and raised 4 children on the family farm just outside of Brownlee, SK.  
Alice loved to garden and her backyard was always a burst of color with her many beautiful flowers.  Every year she had a full-size vegetable garden that she liked to putter in.  She was very proud of her family and if she had your ear, she would definitely tell you all about her 14 grandchildren and 23 great-grandchildren!!  Not sure how she did it, but she never ever missed a birthday, everyone always had a card in the mail!
She was predeceased by her husband, Vern in 1999.  Alice will be missed dearly by her sister, Vi (Wendel); sister-in-law, Ruth Lindquist; sons: Lonnie (Denise), Brian (Edith), and Corey (Cara); daughter, Sandra (Kevin) Manz; grandchildren: Tyler, Devin, Ashley and Travis Smith, Carissa, Reegan, Mitchell, Kaitlyn, Devone and Bryanne Smith, Kailey and Riley Smith, Kirby and Brandon Manz; as well as 23 great-grandchildren, and numerous nieces, nephews and cousins.
Special thanks to the caring staff at Dr. F. H. Wigmore Regional Hospital in Moose Jaw and Regina General Hospital.
A Come and Go Celebration of Alice's Life will be held on Saturday, July 2nd, 2022 from 2:00 – 4:00 p.m. at the Eagles Hall, 561 Home St W, Moose Jaw, SK.  Slideshow and memories of Alice will take place at 2:30 p.m.  As an expression of sympathy, donations in Alice's name may be made to the Providence Place Foundation Inc, 100 – 2nd Ave NE, Moose Jaw, SK S6H 1B8.  Arrangements are entrusted to Moose Jaw Funeral Home, 268 Mulberry Lane.  James Murdock, Funeral Director 306-693-4550