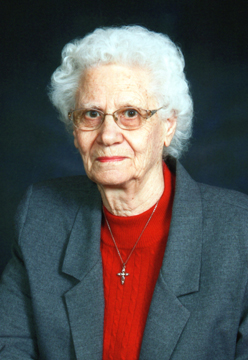 Our dearly loved mother, wife, grandmother and great-grandmother, Myrtle Eleanor Simmons, passed away peacefully, with her family by her side, on Thursday, October 27th, 2022.  Eleanor lived a long, full life as she was 93 years old when she went to be with Jesus.

She was predeceased by her husband, Ken in 2008.  They were together for almost 60 years, raised 3 children, and had 3 grandchildren and 5 great-grandchildren.  She was also predeceased by her parents, Joe and Freida; sisters: Elsie, Dorothy, and Joyce; and brother, Russell.  Eleanor will be lovingly remembered by her son, Todd (Lorna); grandchildren: Judith (Scott) and their children Mabel and Zeke, Rachel (Rob) and their children Maisie, Kenneth and Emily, and Sarah; daughter, Lynn (Rick); daughter, Marilee (Kevin); sisters, Shirley and Norma; sister-in-law, Joan; as well as many nieces, nephews and cousins.

Eleanor was born on November 29th, 1928 in Moose Jaw, SK.  She grew up on the family farm located between Parkbeg and Courval, SK.  Eleanor attended school at Eastleigh and Mortlach, SK.  After graduating, she attended Teacher's College, and later taught at Kalamazoo School and in Medicine Hat.

Myrtle met, and later married, Ken Simmons on July 21st, 1948.  Ken was in the RCAF and they were stationed at various places, including Barrie and near Ottawa, ON.  Eleanor kept busy working in a grocery store and at a softball factory, where she hand stitched covers on softballs.  One year, she even received an award for being top sewer of the year!

In 1954, upon Ken's release from the RCAF, they purchased a farm near Mortlach, SK.  In 1966, an opportunity arose to purchase a farm near Brownlee, SK and there they stayed until their retirement from farming in 1988.  Upon retirement they bought a home in Moose Jaw on Corman Crescent, which they enjoyed together until Ken's passing in 2008.  In 2016, Eleanor sold the house and moved to a condo on Chester Road, where she resided until her passing.
 
Eleanor loved many things.  Her family was always first and foremost on her mind.  Eleanor was a wonderful cook, and many happy times were spent throughout the years around the dining room table.  She was an avid sports fan.  It really didn't matter what sport it was, she enjoyed them all, especially baseball (Blue Jays) and curling.  She also loved jigsaw puzzles and spent many enjoyable hours putting them together.  If she wasn't in her chair watching the TV, she was in her bedroom working on a puzzle.  Eleanor also loved reading, crossword puzzles, petit point, all birds and animals (especially cats), gardening, flowers, and a good fried egg!

Eleanor and Ken enjoyed family gatherings which always included lots of good food, lively card games, and many memorable moments.  We were blessed to have had her in our lives for so long. She will be dearly missed.


"Where there is deep grief, there was great love"


In keeping with Eleanor's wishes, a Private Family Graveside Service will be held at Sunset Cemetery with Pastor Roger Foust officiating.  As an expression of sympathy, donations in Eleanor's name may be made to the Moose Jaw Humane Society, 1755 Stadacona St W, Moose Jaw, SK S6H 7K7.  Arrangements are entrusted to Moose Jaw Funeral Home, 268 Mulberry Lane.
Cara Ashworth -Intern Funeral Director 306-693-4550.