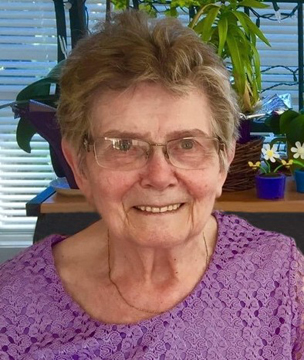 February 25th, 1933 – September 17th, 2022
Helen Silljer passed away peacefully at age 89 years on Saturday, September 17th, 2022 in Moose Jaw, Saskatchewan.
Helen Silljer (née: Reimer) was born to Jacob and Anna Reimer on February 25th, 1933 in Dunelm, Saskatchewan.  Helen and her five siblings: Anne, Eva, John (deceased), Betty (deceased) and Ric, grew up in Swift Current, Saskatchewan.
While in Weyburn attending nursing school with sisters Anne and Eva, Helen met the love of her life, Joseph Silljer.  They were married in Swift Current, SK the Church of the Open Bible on September 1st, 1956.  Helen was blessed with 56 years of happily married life.  She was predeceased by her husband Joe on November 10th, 2012.  Helen and Joe's goals included regular activity in the church and one of Helen's main concerns in life was that everyone she knew would come to personally know the saving grace of Jesus Christ before passing on from this life, especially her family.
Helen and Joe invited their first son, Ronald Frederick Silljer, into their home in Moose Jaw, SK on September 9th, 1959.  A few short years later they were blessed with a second son, Robert James Silljer on March 24th, 1962.  They happily raised their family in Moose Jaw.  Helen and Joe enjoyed many beautiful memories made on vacations to British Columbia and Vancouver Island.  Camping was a natural part of life and a way to spend well-earned vacations with the family.  It was always important to spend time with family and Helen made this a priority in her life.  Anne and Helen were very close throughout her life, especially while living in Moose Jaw both times, and Helen would look forward to daily calls between her and Anne.  She also looked forward to regular phone calls from Eva, John, Betty and Ric; they brought joy and meaning to her life.  Helen was the epicenter of her family, always keeping tabs and checking in on everyone.
Helen made Moose Jaw her home for many years but after retirement, moved to Kelowna, British Columbia where she had the opportunity to spend more time with her sisters Eva and Betty and their families.  She was able to become very close knit once again with Eva after moving to Kelowna.  A cherished time in the grandchildren's memories were visits to Kelowna, with Grandma Helen and Grandpa Jo taking them to Macdonald's farm and Flintstone Park.  They kept very close with their grandchildren Jennifer, Johanna, Joshua and Justin with regular visits travelling to Grande Prairie and Red Deer, AB throughout the years.
After 13 years of enjoyable life in British Columbia, Helen and Joe returned to Moose Jaw in 1999 to spend time with Robert and his children Saylem and Kylen.  Many great memories were made throughout Saylem and Kylen's lives with Grandma and Grandpa living so close; being able to be a daily part of their grandchildren's lives and helping to babysit while they were young.  Helen was able to celebrate both Saylem's graduation as a Teacher and Kylen's graduation as an Engineer.  
Helen was blessed with great-granddaughter Isabella Seward on March 5th, 2005, great-granddaughter Kaydence Seward on September 24th, 2006, and great-grandson Tyson Seward on September 28th, 2009.  Helen and Jo were able to hold and spend time with all their great- grandchildren on multiple visits through the years, and loved keeping up with daily achievements on Facebook, calls and letters.  In her last days, Helen was blessed with the knowledge of the engagement of her granddaughter Johanna Silljer to Kody Gunderson.  She also was able to meet Alisha Silljer, wife of grandson Justin Silljer, and viewed the recent wedding on video together.
She was predeceased by her parents, Jacob (1989) and Anna (1968) Reimer; sister, Betty (2019); brother, John (2021); and husband, Joseph Silljer (2012).
Helen leaves to mourn her passing: her son, Ronald (Natalie) and their children Jennifer (Kevin) Seward, Johanna Silljer (Kody Gunderson), Joshua Silljer, and Justin (Alisha) Silljer; son, Rob Silljer and his children Saylem and Kylen; great-grandchildren: Isabella Seward, Kaydence Seward and Tyson Seward; as well as many dear friends.
The family wishes to thank Points West, Chateau St. Michael's, and the Dr. F.W. Wigmore Regional Hospital.  Huge thanks to son Robert Silljer for all the time given to caring for Helen throughout her life and time spent at her side in the hospital.  Thank you to Pastor Engel and all the family and friends who came to help us celebrate our loved one's life, and for all your good wishes, food, prayers and other gifts.
A Celebration of Helen's Life will be held on Saturday, October 1st, 2022 at 1:30 p.m. in Moose Jaw Funeral Home with Pastor Walter Engel officiating.  In lieu of flowers, memorial donations may be made to the Gideon's.  Arrangements are entrusted to Moose Jaw Funeral Home, 268 Mulberry Lane.  Gary McDowell, Funeral Director 306-693-4550