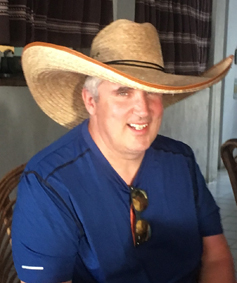 It is with great sadness that we announce the passing of Bradly Curtis Shaw, who passed away peacefully in the early morning of Friday, March 26th, 2021 with Brenda and Chelsea by his side.  He was predeceased by his parents, Clifford and Elinor Shaw; as well as his brother-in-law, Scott Howden.  Brad is survived by his wife, Brenda Shaw; his two daughters, Melissa Houseman (Eric) and Chelsea Shaw; older sister, Debbie Aymont (Jim) and her children Kyle Shaw, Michael Aymont, Danielle Aymont and great-niece Darla; sister-in-law, Liz Howden and her sons William Howden and Erik Howden; and brother-in-law, Clarence Holmes.
Brad was born in Canora, SK and grew up in MacGregor, MB.  He grew up with a love for hockey as well as anything with an engine.  Brad's passion for cars started when he was able to work in his dad's garage helping and eventually working on his own vehicles.  This passion soon turned his attention to the race track, as Brad spent a lot of time racing his own vehicles throughout his life both on and off the track.  Brad's other passions included his family, going target shooting with Chelsea, skydiving with Melissa, and any other adventure he could find.  Travel was a big part of Brad's life, both professionally and personally.  When he wasn't on the road trucking, Brad was planning travels with his wife and daughters.
Brad was fun loving, easy going, and always had great advice.  He grew strong friendships along the way and was always willing to help anyone in need.  He was able to pass on these qualities to his daughters.  Brad lived life to the fullest and there was never a dull day with him around.  His friends always tell stories about one crazy adventure or the next when talking about Brad.
A Private Service will be held to honour Brad at a later date.  In lieu of flowers, donations in Brad's name may be made to the Alzheimer Association of Saskatchewan, 301 – 2550 – 12th Ave, Regina, SK S4P 3X1.  Arrangements are entrusted to Moose Jaw Funeral Home, 268 Mulberry Lane.  Andrew Pratt Funeral Director 306-693-4550