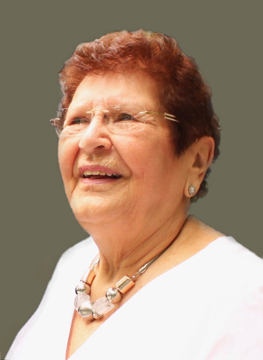 Nancy "Colleen" Theresa Shanks
The family of Nancy "Colleen" Theresa Shanks are sad to announce her passing on Monday, June 26th, 2023, just short of her 90th birthday.
Colleen was born on August 19th, 1933 in Chelan, SK and grew up around Reserve, SK.  She left school and home early to work as a cookee at The Pas Lumber Co and worked her way up to managing the kitchen, all while in her teens and early 20's.  Colleen later moved to Moose Jaw, SK and started working at the Saskatchewan Training School in the laundry, housekeeping, and nursing, retiring after 35 years in 1991.  She continued her love of working with people with special needs and was a group home operator for over 20 years.  While working full time running a group home, Colleen and Alex also farmed, looked after pigs, and milked jersey cows!  
Colleen was a member of F.O.E.3395 Auxiliary for 25 years and the Moose Jaw Legion Branch #59 for 13 years.  As well she enjoyed bingo, going to the casino, travelling with their trailer, watching the Riders and Blue Jays, and their many loved pets.
She was predeceased by her mother, Rose; father, Nelson; stepmother, Mary; brothers, Neil and Jim Clark; her husbands, Alex Shanks and Stan Hesjedal; in-laws: John and Irene, Peggy and Archie; Bessie and Rueben; Jessie and Bob, Charlie and Jeanie, Toots and Les, Bill, Martin, and Audrey Hesjedal, Thelma and Alvin Kaufman, Alf and Patricia Hesjedal (Joyce Bathgate). Colleen is survived by her daughters, Sherry and Shauna Inglis of Moose Jaw; son, Jason (Xioameng) Shanks of Port Coquitlam, BC; grandson, Logan Inglis (Sarah) of Moose Jaw; a great-grandbaby yet to arrive; sisters, Elfie Martens of Winnipeg, MB, and Dorothy (Dale) McAfee of Millbrae, California; brother, Allan (Audrey) Clark of Regina, SK; sisters-in-law: Bev Clark of Sooke, BC, Pat Clark of Prince Albert, SK, Shirley Shanks of BC, and Marilyn Inglis of Victoria, BC; as well as many nieces and nephews.  
Colleen's family would like to thank the nurses and staff at Providence Place and Pioneer Lodge, nursing staff at Home Care and Palliative Care, and a special thank you to Dr. Geyer who provided so much comfort and care.
A Graveside Service will be held on Sunday, July 2nd, 2023 at 12:30 p.m. in Sunset Cemetery.  A Celebration of Colleen's Life will follow at 2:00 p.m. at the Fraternal Order of Eagles, 561 Home St W, Moose Jaw, SK.  In lieu of flowers, donations in Colleen's name may be made to The Moose Jaw Humane Society, Box 1658 Station Main, Moose Jaw, SK S6H 7K7.  Arrangements are entrusted to Moose Jaw Funeral Home, 268 Mulberry Lane.  Gary McDowell, Funeral Director 306-693-4550