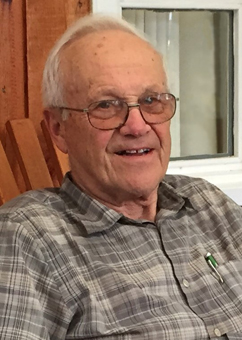 With deep sadness, but gratitude for a life well-lived, the family of Andrew Sereda announces that he passed away peacefully in Moose Jaw, SK on Saturday, November 27th, 2021 at the age of 84 years.
Andy was born August 7th, 1937 near West Bend, Saskatchewan.  He attended Athlone School and then graduated from Foam Lake High School before attending the University of Saskatchewan's College of Agriculture, from which he graduated in 1960.  His career began with the PFRA at Indian Head, SK before he joined the Government of Saskatchewan's Department of Agriculture as an Ag Rep in Kerrobert, and then accepted a position as Regional Coordinator in Tisdale.  He transferred to Moose Jaw in 1985, retiring in 1987 but continuing with contract work for various organizations for a number of years.
Andy was always busy with numerous hobbies and interests, to the great benefit of his family and friends.  He was an avid hunter and fisherman, visiting many northern Saskatchewan lakes and losing the occasional tackle box.  He also enjoyed beekeeping in his own backyard in Tisdale; even after moving to Moose Jaw, he and his faithful co-pilot, Olga, continued making annual "honey runs" from Tisdale to relatives across the province.  Andy's garden was famous – he took great pride in producing the season's earliest carrots, potatoes and tomatoes, and supplying neighbours and family with his produce.  He was a man of many talents, dabbling in winemaking, carpentry, upholstery and storytelling.  He cherished time spent at the family cabin at Lower Fishing Lake – especially going fishing and berry picking.  In retirement, he treasured walks and daily coffee with the "Grumpy Old Men" at A&W and the Burger Cabin in Wakamow Valley.
Andy is survived by his wife of 58 years, Olga; and children: Cathy (Kirby) Jabusch, Carolyn (Ian) Hamilton, Gary (Michelle) Sereda, and David Sereda.  He will also be dearly missed by grandchildren: Brianna (Nidal) Megawache, Carmen (Cody) Williams, Andrew (Amanda) Hamilton, Rachel Hamilton, Calli Sereda, and Keena Sereda; and great-grandchildren, Rafael Meghawache and Ella Williams.  He is also survived by sisters: Pauline Sereda, Anne (Ed) Poole, Louise (Myron) Strohan, Sophie (Steve) Schebel, and Angie Sereda; as well as brother-in-law, Dan (Vi) Woloschuk.  He was predeceased by daughter-in-law, Monique Sereda; grandson, Thomas Hamilton; sisters, Rose Sereda and Olga (Willie) Zadorozniak; and brother, Emil (Doreen) Sereda.  
A Private Family Funeral will be held in Moose Jaw.  In lieu of flowers, donations in Andy's name may be made to the Canadian Cancer Society, 1910 McIntyre St, Regina, SK S4P 2R3.  Arrangements are entrusted to Moose Jaw Funeral Home, 268 Mulberry Lane.  Andrew Pratt Funeral Director 306-693-4550