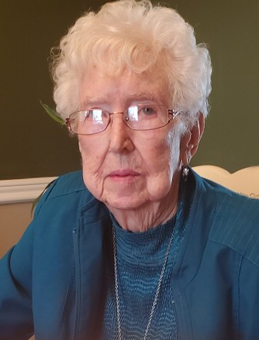 It is with great sadness that we announce the passing of Mazie Seibel on Sunday, September 19th, 2021 with family by her side.  
She was predeceased by her husband, Leo; daughter, Cheryl; and sisters: Olida, Carol and Frances.   Mazie is survived by her son, Terry (Shelley) Seibel of Swift Current, SK; daughter, Jackie of Grand Prairie, AB; son-in-law, Murray Ogilvy of Swift Current; grandchildren: Rob (Dallas) Ogilvy of Swift Current, Leslie (David) Wotherspoon of Swift Current, Michelle Marciszyn of Moose Jaw, SK; Christina (Greg) Jackson of Vulcan, AB; and Michael; as well as her great-grandchildren and great-great-grandchildren. 
Mazie was born on May 10th, 1931.  She and her husband Leo were married on August 1st, 1951 in Strongfield, SK.  She had a love of baking, sewing and camping and you always knew when Mazie was in the campground because you could smell the buns baking.  She liked visiting with her friends and family, had a very sharp mind, and was always up to telling stories of the past.  She will be greatly missed but never forgotten.
A Graveside Service will be held on Thursday, September 23rd, 2021 at 2:00 p.m. in Sunset Cemetery with Darrell Buchannan officiating.  Those wishing to attend are asked to meet at the Funeral Home by 1:30 p.m.  A Time of Fellowship will follow in the Harvey Room at Moose Jaw Funeral Home.  As an expression of sympathy, donations in Mazie's name may be made to the Allan Blair Cancer Centre c/o Pasqua Hospital, 4101 Dewdney Ave, Regina, SK S4T 7T1.  Arrangements are entrusted to Moose Jaw Funeral Home, 268 Mulberry Lane.  Gary McDowell, Funeral Director 306-693-4550