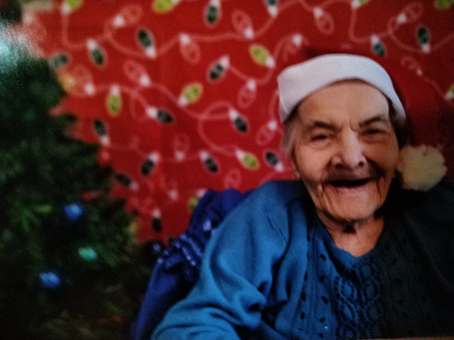 BEATRICE "SHAN" SEARLE (Billenwillms, Lawrence)
February 23rd, 1929 – October 22nd, 2021
An exemplary mother, grandmother and devoted Christian, Shan passed away at the age of 92 years on Friday, October 22nd, 2021 after a long and full life. 
Shan was born on February 23rd, 1929 in Moose Jaw, SK and spent most of her childhood there.  She attended acting school and also worked as a teacher for several years.  Shan was known in Moose Jaw for her energetic and colorful personality, along with her ability to entertain.  It was not uncommon to see her dressed in elaborate outfits with matching hats, or to hear her recite songs or stories such as The Night Before Christmas while in full character. 
Left to lovingly remember Shan are her son, Greg Searle; and her three granddaughters: Chrissy Uhlik, Cassandra Taylor and Brittany Taylor.
For the last two years, Shan resided at the Extendicare Nursing Home in Moose Jaw.  The family would like to thank the kind and compassionate staff who cared for her during the final years of her life. 
The Funeral Service will be held on Friday, November 12th, 2021 at 1:00 p.m. in Moose Jaw Funeral Home.  Celebrant Dave Foley will officiate and interment will take place at Rosedale Cemetery.  As an expression of sympathy, donations in Shan's name may be made to the Drama Program at Peacock Collegiate, 145 Ross St E, Moose Jaw, SK S6H 0S3.  Arrangements are entrusted to Moose Jaw Funeral Home, 268 Mulberry Lane.  Michelle Ellis, Funeral Director 306-693-4550