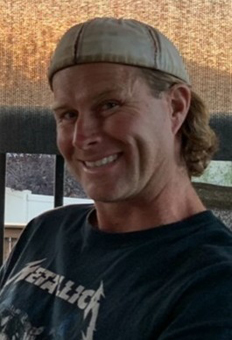 The family of Chad Jerrod Scott are heartbroken to announce his passing on Wednesday, May 5th, 2021 at the age of 43 years, due to a motor vehicle accident.  Chad was born August 25th, 1977 at the Providence Hospital in Moose Jaw, SK.  He attended high school in Moose Jaw and upon completion, Chad worked at several different jobs, including: Sun Peaks Mountain Resort in British Columbia for a year where he pursued his love for snowboarding, firefighting in the forests of Alberta for approximately two seasons, Geralds Steel erecting steel buildings for approximately two years, and then started working at HCL Construction in 2005 until his passing.  
Chad married the love of his life, Jessica Lewis, in 2008 on the beach in Mexico.  Together they shared their life with their children Kain, Harper, Willow and Chayden.  Their little family loved to spend most of their time outdoors, whether it was tubing and surfing on the lake at their cabin, fishing, or snowboarding in the mountains.  As well, they travelled down to Cuba and Florida.  Chad loved his wife and children very, very much, and enjoyed being with family.  He was well liked and had a large circle of friends.
He was predeceased by his father-in-law, Robert Lewis; paternal grandparents, Ernie and Merle Scott; maternal grandmother, Lois Agar; cousin, Kevin Stein; and infant niece, Jaida Scott.  Chad is survived by and will be missed by his wife, Jessica; children: Kain, Harper, Willow and Chayden; parents, Dennis and Debbie Scott; brother, Trevor (Angela) Scott and their children Nolan and Colleen; brother, Jaimy (Kendahl) Scott and their children Fionn and Freya; mother-in-law, Maureen Lewis; brother-in-law, Robbie (Lanette) and their children Parker, Kolby and Karson; brother-in-law, Lorne Caines; as well as numerous aunts, uncles and cousins. 
Chad smiled with his whole face – first teeth, the cheeks, the eyes, and then his amazing easy-going laugh that everyone would join in on.  Chad was extremely well known, loved and touched the hearts of all that knew him.  He will forever be in our hearts.
Due to Covid-19 restrictions, a Private Family Service will be held.  Friends and Family are invited to view the service virtually on Saturday, May 15th, 2021 at 1:00 p.m. by going to www.moosejawfuneralhome.com/webcast/.  Arrangements are entrusted to Moose Jaw Funeral Home, 268 Mulberry Lane.  James Murdock, Funeral Director 306-693-4550