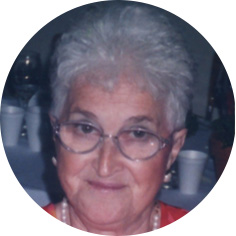 On this date of June 2nd, 2020, our loving Mother, Lieselotte Schwarz, aged 88 years of Moose Jaw, SK, decided her husband missed her "Roladen" and it was time for a big feast!!
Our mom, Liese, was born in Pirmasens, Germany in 1931.  Her biological mother passed away when she was 2 years old and she ended up being adopted by a woman who raised her as her own and loved her endlessly.  Liese survived a war, many hardships and many changes in her life.  She met her husband, Edmund, at a young age, married and had a daughter, Heide, in 1956.  She came to Canada in 1958, arriving a year after her husband and settled in Moose Jaw to make a life for themselves.  She gave birth to 2 more children, Roger and Angie, to complete her family legacy.  Liese was a stay at home Mom for most of her early years with us.  She did work at the Co-op Cafeteria and as a cleaner at City Hall.  She loved to dance, polka music, and sing.  She also loved bright colours and flowers.  She was a member of the German Canadian Club for many years and made friendships that lasted the rest of her life.  Liese had a huge garden, canned her beet pickles and pickled her jack fish for many years, and packed that little brown picnic basket every Sunday to head to Buffalo Pound Lake for our family weekly outing.
Our mother had an outgoing personality which made her lifelong friends that cherished every moment they spent together.
She was predeceased by her husband, Edmund in 2009.  Liese's legacy continues on through her children: Heide (Jim), Roger (Connie), and Angie (Darrell); and grandchildren: Rob, Lisa, Alex, Nicole and Dakota.  
Your wit ~ your charm ~ your sense of humour ~ your natural instinct to help others in any way you could… your smile, your kindness and your never ending huge heart… those are traits that we have all attributed from you!  You are loved and will be loved by us even after your last breath!  We are proud to be your children… always have been… Be happy… fly free Mama, Oma!
"Ich liebe dich!!"
Due to the current health situation, a Private Family Service will be held.  Flowers are gratefully declined. As an expression of sympathy, donations in Liese's name may be made to a charity of one's choice.  Arrangements are entrusted to Moose Jaw Funeral Home, 268 Mulberry Lane.  Todd Sjoberg, Funeral Director 306-693-4550