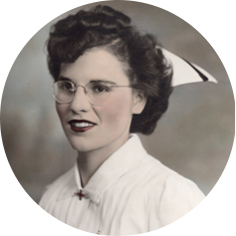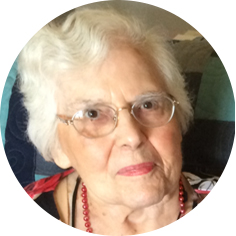 Frances Ellenore Schoenroth
Frances Ellenore Schoenroth (née: Lowe) passed away peacefully on Friday, July 10th, 2020 at West Park Crossing in Moose Jaw, Saskatchewan.    
She was predeceased by her husband, Edward Schoenroth (May 2012); brother, George Lowe; sister, Winifred McDonough; as well as her parents and many additional family members.
Fran is survived by her sons, Arthur (Rita) Schoenroth and Gary (Karen) Schoenroth; special niece, Eileen Truitt; as well as numerous grandchildren, great-grandchildren and their families.
Fran was born to Ernest and Ellen Lowe on December 4th, 1924 in the Baildon, SK area.  She started her education at Cataraqui School in the rural area, then completed her high school at Central Collegiate in Moose Jaw.  Fran entered nurse's training at the Moose Jaw General Hospital in 1944.  Unfortunately she contracted tuberculosis during this time, resulting in a year of convalescence at Fort San near Fort Qu'Appelle, SK.  She returned to her training at the General Hospital, graduating with her RN status in 1947.    
Fran and Ed met while he was a patient in hospital.  They were married on September 19th, 1947, taking up residence in a small apartment in downtown Moose Jaw until 1949 when they moved into the house they built and lived in up to the time of Ed's passing.   
Fran continued to work at the General Hospital through the years that the facility grew and evolved into the Union Hospital.  She adapted to many changes in nursing practices and medical advances over the course of her career, which she loved and was very dedicated to.  Fran achieved the position of Head Nurse of the Medical Floor, electing to retire from the hospital in 1984.  Fran spoke fondly of the years that she worked for Dr. Miller in his office following retirement from the hospital.  She also worked for a short stint in the office at C & E prior to Ed's retirement.   
Fran has recounted many stories and events revolving around friendships and social connections such as the Nurses Glee Club.  She and Ed lived very close to the hospital and they hosted many meals, bbq's and overnight guests with connections to the hospital.  Many of Fran's nursing peers and their spouses became life time friends to both of them.  Evenings of playing cards, square dancing and visits with extended family balanced out long hours of work at the hospital for Fran and many cold late night service calls for Ed.  They entertained friends and family in their cozy home with the tiny kitchen, where, we were told many nurses felt comfortable and welcome in their home.      
Fran was a most devoted wife, waiting up to make sure Ed returned from late night emergency work, fussing over his health, or sitting in a vehicle reading as she waited for him to complete a service call.  She had stated many times that she and Ed had never once had a quarrel or argument.  In their later working years, Fran accompanied Ed on business travel as often as her hospital duties would allow.  These trips lead to the building of many additional long lasting friendships across Canada and the USA.  For several years they were able to spend time in the condo in Maui.  The two of them were rarely separated and there was nothing they liked better than going out for a drive, usually with a stop for ice cream!  With declining health, they spent winter weeks in Victoria enjoying the company of close friends George and Ruth Durie and visits with her special cousin Lawrie and his wife Shirlely.  After Ed's passing, Fran spent several years at the Mulberry Estates where again, cards and social interaction with others helped to fill the void left by Ed's absence.  
The past year had been fraught with health setbacks, resulting in time spent in hospital and a move to West Park Crossing, where she spent her final days.  It was during one of her hospital stays that the impact and far reaching influence of Fran's ability and integrity as a nurse was revealed to her children.  Several currently practicing nurses recognized her and would relate working experiences where "Mrs. Schoenroth" had first hired them as a student nurse, been their best teacher or taught them how to do procedures efficiently, and how they appreciated that Fran had been a great Head Nurse who treated everyone fairly and with dignity.  Fran had a hard time recalling some of the names and faces but she would be gracious, conversational and kind, later to ponder about just who that person was!           
Fran's family would like to thank the Arbor staff at West Park Crossing for the compassionate care and attention that she was given.  Thanks to the local administration staff: Jeff for prompt responses to any concerns we had, and to Donna for the texts, phone calls and Face Time video chats with Fran when we were unable to visit her in person.  We are especially grateful to Dr Rininsland.  Fran could not have asked for a more attentive physician.  Thank you for everything that you did for her over the many decades that she was your patient. 
A Private Family Gathering will be held to honor Fran and lay her to rest beside Ed at Sunset Cemetery.  Those wishing to remember Fran may make a donation in her name to the Moose Jaw Health Foundation, 55 Diefenbaker Drive, Moose Jaw, SK S6J 0C2 or to a charity of one's choice.  Arrangements are entrusted to Moose Jaw Funeral Home, 268 Mulberry Lane.  James Murdock, Funeral Director 306-693-4550