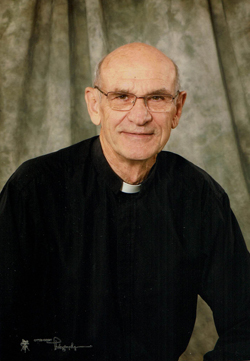 William Alfred Schnitzler
William Alfred Schnitzler passed away on Thursday, September 23rd, 2021.  Bill was born to William and Rose Schnitzler on May 11th, 1941 in Allan, SK.  He was predeceased by his 1st wife, Frances Schnitzler; his 2nd wife, Jean Schnitzler; parents, William and Rose Schnitzler; sister, Frances Miller; brother, Raymond Schnitzler; sister, Caroline Ellis; and brother, Joseph Schnitzler.  Bill will be lovingly remembered by his children: Netta (Russ) Farrow of Abbotsford, BC, Steven Schnitzler of Regina, SK, Jason Schnitzler of Regina, SK and Camille (Cliff) Wagner of Regina, SK; grandchildren: Ashley Farrow, Evan and Hunter Wiest, Charlotte Schnitzler, Hadrian and Jorja Wagner; stepchildren: Doug (Betty) of Saskatoon, SK, Sharon (Yves) Bordeau of Moose Jaw, SK, Garry (Cathy) of Surrey, BC, Allan (Sharon) of Saskatoon, SK, Bonny Mitchell of Moose Jaw, SK, and Timothy (Senka) of Florence, Italy; numerous grandchildren and great-grandchildren; brother, Jim (Yvonne) of Saskatoon SK; sister-in-law, Marge of Vernon, BC; brother, Frank of Westbank, BC; brother, Ron (Judy) of Saskatoon, SK, sister, Margaret Sander of Martinsville, SK; and sister-in-law, Diane Schnitzler of Saskatoon, SK; as well as many nieces, nephews and other loving relatives and friends that will remember him.
Bill was employed by SaskTel working in several cities in Saskatchewan.  After retiring in 1993, he and Jean moved to BC and then to Alberta.  He spent his leisure time curling, golfing and wood working in Father Leo Boyd's shop.  Being taught by the Ursuline Sisters throughout his schoolyears, he became active within the church in Allan.  He began as a daily altar server.  Bill and Jean studied with the Deacon Formation for 3 1/2 years in the Diocese of Calgary.  On June 9th, 2008, Bill was ordained as Deacon at St. Mary's Cathedral in Calgary, AB.  Bill served with Father Keith Sorge and Father Philip Lee in Holy Family Parish, Medicine Hat, AB for six years.  His work was assisting the priest at the altar proclaiming God's Word, tribunal, weddings, baptisms, funeral vigils, funerals, and lector, leading the pastoral care team, Chaplin at the hospital, minister of Holy Communion, and visitation minister at care homes, leading the bereavement team, and visiting at the Remand Center giving support to prisoners.  After returning to Moose Jaw he assisted Father Rick Krofchek at St Joseph's Church, and then assisted Father Joaquin Ibay and Father Leonardo Tamayo at Church of Our Lady.
Bill was a gifted carpenter, building houses and several pieces of beautiful furniture.  Gardening was another pass time enjoyed by him.  In 1989 Bill became involved with SaskTel Pioneers and the telephone clown group.  He found cheering up patients in the hospitals, especially the children's ward, time well spent.  Bill was a generous and giving person.
The Funeral Mass will be celebrated on Thursday, September 30th, 2021 at 11:00 a.m. in St. Joseph's Roman Catholic Church, 1064 3rd Ave NW, Moose Jaw, SK.  The Most Reverend Arch Bishop Don Bolen will be the presiding celebrant with Homilist Father George Thattuparampil, visiting priests and Deacon Lamont Dyck.  Interment will take place at Rosedale Cemetery at a later date.  A Prayer Service will be held on Wednesday, September 29th, 2021 at 7:00 p.m. in St. Joseph's Roman Catholic Church. Those unable to attend may view the service virtually by going to https://youtu.be/s0CJhkeXYLs.