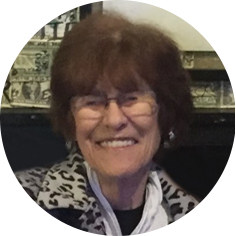 Sheila Anne Schmitz passed away peacefully on the morning of Monday, October 5th, 2020 in Central Butte, SK surrounded by family. 
She was born on March 13th, 1943 in Gravelbourg, SK., to Howard and Katherine Eastman. She grew up with her four sisters Mavis, Beryl, Kathy, and Norma. She spent her early childhood in Bateman, SK later moving to Central Butte, SK with her family. This is where she met her husband Jacques. Together they created a wonderful family having three children: Verna, Owen, and Roger. 
Sheila was a strong, determined woman who never shied away from a challenge. She worked along side Jacques in the field, and there was not a piece of equipment on the farm that she could not run. She enjoyed working with the cows and loved watching the calves run around in the spring. 
Sheila met Pat in 1992, and from then became partners in life. Together they ran Pat's Towing in Chaplin, SK and maintained a beautiful farmyard. The two brought their families together to create many wonderful memories. Pat and Sheila shared a special love for one another that was clear to see when you saw the two together.
For fun Sheila loved to curl, especially when she went to bonspiels with her close friends. She loved curling so much it was all she would watch on tv when the tournaments were on. 
She really enjoyed going on road trips. She travelled all across Saskatchewan to watch rodeos and her grandchildren play sports. Her road trips have taken her to the mountains, Arizona and even Vegas. Sheila loved to spend time with her family and friends, no matter where it took her.
Sheila was predeceased by her husband Jacques Schmitz, parents Howard and Katherine Eastman, and sisters Mavis Tucker, Beryl Eastman, and Kathy Schmitz. Survived by her sister Norma Polley (Garth).
Survived by daughter Verna Kuling (Robert), and her children Kyle Kuling, Nikita King (Adam) and her son Rory, and Nolan Kuling (Rachelle). Survived by son Owen Schmitz (Karen), and his daughters Kasey Leisle (Brayton)and Bobbi-Jo Hansen (Carter). Predeceased by Roger Schmitz and his sons Dustin and Colton Schmitz, survived by his daughter Tiana Knight (Austen). 
Survived by her life partner Pat Labossiere and his daughter Patricia Labossiere (Doni), their daughter Kailan Scheer (Troy) and their sons Ares and Raiden Scheer, and his daughter Sherry Labossiere.
Thank you for the wonderful care from the staff at Central Butte Regency Manor and the Dr. F.H. Wigmore Regional Hospital medical ward.  Due to the current health situation, a Private Family Service will be held with interment at Central Butte Cemetery. 
In lieu of flowers, donations in Sheila's name may be made to the Kinsmen Telemiracle Foundation, 2217C Hanselman Court, Saskatoon, SK S7L 6A8 or STARS Air Ambulance, 2640 Airport Road, Regina, SK S4W 1A3.  Arrangements are entrusted to Moose Jaw Funeral Home, 268 Mulberry Lane.  James Murdock, Funeral Director 306-693-4550