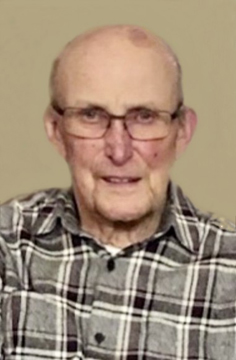 September 19th, 1929 – September 29th, 2022
It is with heavy hearts and profound sadness that the family of Wilfred George Schmiess announce his passing on Thursday, September 29th, 2022 at the age of 93 years.  He was predeceased by his parents, Alex and Bertha Schmiess; sister, Lavina Farnsworth; brother-in-law, Gerald Johnston; parents-in-law, Tina and Steve Fedorenko; and sisters-in-law, Mabel Mason and Gloria House.  Wilf will be lovingly remembered by his wife of 66 years, Dolores; son, Marlowe (Lil) Schmiess and their children Jayden (Brea) Schmiess, Janelle (Leane) Schmiess, and Jenna (Keith) Sinkewicz; daughter, Melanie (Ray) Woloschuk and their children Dustin and Dylan; great-grandchildren: Tenley and Abbey Schmiess, Zoe and Ashton Kesslar, and Eli, Evan and Eddie Sinkewicz; sister, Fern Johnston; brother, Ralph (Carol) Schmiess; as well as many nieces and nephews. 
Wilf was born in Rush Lake, Saskatchewan to Alex and Bertha Schmiess on September 19th, 1929.  His early years were spent in Stewart Valley where his father farmed.  After graduating high school, Wilf moved to Moose Jaw and enrolled in Normal School where he studied to become a teacher.  Wilf got a job teaching at a country school near his home town for three years.  Though Wilf enjoyed educating young minds, he chose to venture down a new path and began what would become a life-long career when he started working for Canadian Pacific Railroad in 1952 as an operator on the mainline.  This soon led to numerous towns throughout the province as a station agent until 1970 when he was appointed as mobile supervisor until his retirement in 1988.
Wilf married Dolores Fedorenko in November 1955 and raised their children in McMann, Robsart, Herschel, Ponteix and eventually Moose Jaw, SK.
In his spare time Wilf enjoyed golfing, curling, fishing, hunting, woodwork, as well as socializing with anyone and everyone.  His sparkling personality and sharp wit lead to many special friendships throughout his life.  His greatest love was music and he played many different instruments, especially the guitar which he continued to play while singing along, much to the delight of his great-grandchildren.
A Memorial Service will be held on Thursday, October 6th, 2022 at 11:00 a.m. in Emmanuel Lutheran Church, 15 Paul Drive, Moose Jaw, SK with Pastor Jason Schultz officiating.  As an expression of sympathy, donation in Wilf's name may be made to the Canadian Cancer Society, 1910 McIntyre St, Regina, SK S4P 2R3.  Arrangements are entrusted to Moose Jaw Funeral Home, 268 Mulberry Lane.  Michelle Ellis, Funeral Director 306-693-4550.