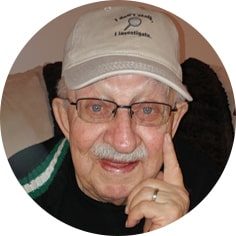 Maurice Bertram Schmidt, born on July 7, 1939 at St. Peter's Colony, passed away peacefully on Thursday, March 5th, 2020 in Moose Jaw, SK. 
He was the second oldest of 8 children born to Meinard and Anna Marie Schmidt.  He grew up on the colony until the family moved to Regina in 1952. In Regina, Mo attended Campion College. 
On July 23rd, 1960, Mo and Ethel were married and remained married until Ethel's passing in 2015.  Together, they had 4 amazing, intelligent, beautiful and humble children.
Mo spent most of his career at SGI until he decided he didn't want to eat sunflower seeds in that office anymore.  He then decided to do some freelance insurance adjusting that took him all over the province, and even to the Virgin Islands.  Working privately allowed him to travel with his enormous bag of plain and salted sunflower seeds.
Throughout his life Mo loved sports.  He played baseball, bowled and curled.  Eventually, he spent a lot of his time umping ball when he no longer played.  If you needed to find him for some cash in between innings, you could find him by the first base dugout at Ross Well's, having a smoke. 
When he wasn't playing or coaching sports, he was watching sports.  Mo LOVED the Riders. Matt Dunnigan commentating – not so much. Mo had season tickets for the Riders since the 1950's.  It was a sad day when he had to give them up. He was able to see a couple of games in the new stadium and thought it was a great place.  He barely complained about it, which meant that he loved it! Mo loved watching sports and was a fixture on the diamonds or the alleys. Mo was passionate about scorekeeping the World Series.  He kept score for every series since 1963! In the last couple of years, he was able to watch a new generation of ball player take to the field and you could see him swell with pride. 
Mo also spent a lot of time coaching his kids.  Hockey, bowling, and baseball were all sports Mo coached at one time or another.  Ask any of his children about his "gentle" coaching methods – we all have stories!  His kid's friends grew to love Mo and have so many stories to tell from his coaching days. 
Mo loved to be involved!  This guy would give you the shirt off his back.  He gave so much of his time volunteering and giving back to his community.  He volunteered with the Legion Poppy Fund, Mental Health Association, the Sprigs of Heather, and Meals on Wheels.  He also volunteered with the Blue Goose and one year was even the "Grand Pooba".
One of his favourite places to spend his time was the Lynbrook Golf Course.  During his time there, Mo took over the Carl Jorgensen Par 27 and it was his and Ethel's baby.  They both devoted so much time to making that tournament a success. He also took roles on the board and as the Club Captain.  Last year, they honoured him with a lifetime membership for all of his contributions. He was so proud that day.  
He was predeceased by his wife of 55 years, Ethel; his and Ethel's' parents: Meinard and Anna Marie Schmidt, and Walter and Ina Gwilt; and nephew, Michael Schmidt.  
Always loving him are his children: Lori (Ron) Farnel, Tracey Schmidt (Clint Chesney), Stewart (Eran) Schmidt, and Lindsay Morhart (Buck).  Mo loved all of his granddaughters, even though there was competition for the favourite: Erin Farnel (Shane Ashworth), Amanda Farnel, Charli Morhart and Leigha and Emily Schmidt, all held such a special place in Mo's heart.  His best customers when it came to Grey Cup or Superbowl tickets were his siblings: Marcella O'Connell, John (Betty) Schmidt, Marilyn (Ben) Herschmiller, Jeannette (Gerry) Zimmer, Bernie (Patti) Schmidt, Rod Schmidt, and Rita Adams.  Mo was blessed with all of these people and tonnes of nieces and nephews. He was so proud of his family and how close everyone is. He knew he was loved.
Mo had his sassy pants on right until the end, in case you were all wondering. 
The family invites you all to come and share stories with us, or insults Mo may have hurled at you, on Monday, March 9th, 2020 from 2:00 – 4:00 p.m. at the Lynbrook Golf Course, 1525 4th Ave NW, Moose Jaw, SK and invite you to wear your Rider gear or anything green.
In lieu of flowers, donations in Mo's name may be made to the Saskatchewan Cancer Agency, 200 – 4545 Parliament Ave, Regina, SK S4W 0G3 www.cancerfoundationsask.ca/donate/in-memory-gift/ Arrangements are entrusted to Moose Jaw Funeral Home, 268 Mulberry Lane.  Gary McDowell, Funeral Director 306-693-4550