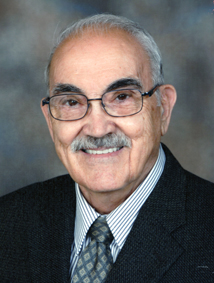 Lenard Anton Schmidt, aged 90 years of Moose Jaw, SK passed away peacefully on Monday, March 8th, 2021 surrounded by his loving family.
Len was born November 19th, 1930 in the family home on Section 8, Township 7, Range 25, West of 2nd, SK.  Len attended Surprise Valley School from April 1936 until October 1944, then he had to quit school to run the family farm near Viceroy, SK because his father was ill.  Len married the love of his life, Emma Boyczuk on October 16th, 1952 in Horizon, SK.  Together they raised five children.  He continued farming until 1990 when he was forced to retire due to health problems.
Len and Emma moved to Moose Jaw where they made many new friends through St. Joseph's Church.  Len's strong faith led him to attend daily mass, pray his rosary daily and be active in The Knights of Columbus.  Len enjoyed life at the lake, bowling, square dancing, cooking and gardening.  His favourite past time was playing cards and he was always ready for a game of crib.  Len loved to host family and friends at his home.  His pride and joy were his children, grandchildren and great-grandchildren.  Len also loved to crochet and made everyone in the family their own afghan.  He struggled with the solitude forced on him by the Covid-19 pandemic.
He was predeceased by his loving wife of 42 years, Emma; parents, Tony and Katie; parents-in-law, Wasil and Margaret Boyczuk; his only sister, Frances (Afterchuk) Albers; nine sisters-in-law and 12 brothers-in-law.  Len is survived by his daughters, Denise (Ed) Jensen and Vanessa (Jim) Waldenberger; sons: Jeff (Cindy), Warren, and Kurt (Marcie); 14 grandchildren and 16 great-grandchildren; two sisters-in-law and numerous nieces and nephews.
Due to Covid-19 restrictions, a Private Funeral Mass will be celebrated at St. Joseph's Roman Catholic Church.  Flowers are gratefully declined.  As an expression of sympathy, donations in Len's name may be made to The Moose Jaw and District Food Bank, 305 Fairford St W, Moose Jaw, SK S6H 1V8 or Riverside Mission, 40 Manitoba St E, Moose Jaw, SK S6H 0A2.  Arrangements are entrusted to Moose Jaw Funeral Home, 268 Mulberry Lane.  Todd Sjoberg, Funeral Director 306-693-4550