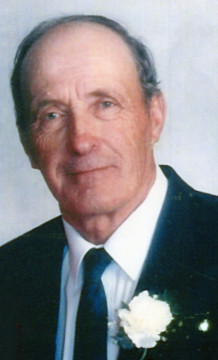 December 21st, 1930 – October 6th, 2023
Herbert Michael Schmidt passed away Friday, October 6th, 2023 in Moose Jaw, SK at the age of 92 years.
He was predeceased by his daughters, Christine Ann and Teresa Marie; parents, Nick and Mary Schmidt; and siblings: Tony Schmidt, Mary Cushing, and Rose Volsky.  A much loved husband, dad, and granddad, Herb is survived by his wife of 70 years, Evelyn; children: Randy (Angela), Rob (Deanna), Maureen (Jed) Sawatzky, Karen (Bob) Elder, Graem, and Janice; grandchildren: Dustin (Randi, Beckett, and Charlie), Callum, Jasmyn (Kobus, Samantha, and Jack), Rochana (Ian), Carly, Travis (Kaila and Natalie), Jill (Kary), Tace, Lee, and Chamique; and sister Betty Pomazon.
Herb was born December 21st, 1930 at the family farm north of Viceroy, Saskatchewan.  He loved farming and did so for 50 years.  An active member of his community, Herb and Evelyn helped start the Big Muddy Ball League for both boys and girls.  He enjoyed playing and coaching baseball, hockey, and curling.  In 2016, Herb was inducted into the Saskatchewan Baseball Hall of Fame with the 1946 – 1975 Viceroy team.  He spent many summers angling in northern Saskatchewan and Manitoba.  After his retirement, he enjoyed bowling, playing cards, and fishing with his family at Palliser Regional Park.  
A Private Graveside Service will be held at the St. Cunegunda Cemetery at Horizon, Saskatchewan.  As an expression of sympathy, donations in memory of Herb may be made to your favourite animal charity.  Arrangements are entrusted to Moose Jaw Funeral Home, 268 Mulberry Lane.  Gary McDowell, Funeral Director 306-693-4550