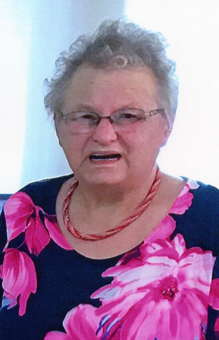 It is with heavy hearts that we announce the passing of Loretta Ann Schick (née: Krieger) on Wednesday, January 19th, 2022.  Loretta was born in Neudorf, SK on October 25th, 1943.  She was predeceased by her son, Lyle.  Loretta is survived by her husband of 60 years, Wilfred; and children: Garth (Kim), Laurie (Jay), and Gail (Mike).  
Loretta grew up on a farm outside of Neudorf, SK with her 10 siblings and attended a small country school.  In 1961 she married her sweetheart and off she went to live on her new husband's farm.  In 1970 they took an adventure and moved to Thompson, MB where Wilfred took on a job as a welder at the local mine.  At this time, they had 4 young children and if you knew Loretta, you knew she loved kids, which led her to starting a home daycare.  Along with caring for the many children she looked after, she always made time for her own children to be involved in activities such as bowling, skating, hockey, dancing, 4-H, and other local community events.  
In 1980, Loretta and her family moved back to Saskatchewan to live in Moose Jaw, where Wilfred took on a job at Kalium Mines and Loretta continued with her passion for looking after children in her home daycare.  In 1994, Wilfred and Loretta decided to retire, sell everything and start another adventure in their life.  They spent the winter down in Arizona and the summer in Moose Jaw.  It was at this time her and Wilfred rekindled a love that they had enjoyed as a young couple, and that was to dance.  Together they participated in many polka festivals, which kept them very active on a weekly basis, along with visiting and helping their children establish their own lives.  Their children started to have their own families, giving her the joy of grandchildren: Ryan (Jenelle), Jay (Megan), Jacob, Lindsay, and Braydon.  In the last few years, before Loretta's passing, she had the privilege of enjoying her great-grandchildren: Noah, Oliver, Elijah, and Hannah.
Loretta, you will be dearly missed and remembered as a wife, mother, grandmother, great-grandmother and friend to all you have met.  May you now rest in peace.
The Funeral Service will be held on Saturday, January 29th, 2022 at 11:00 a.m. in Emmanuel Lutheran Church, 15 Paul Dr, Moose Jaw, SK.  Pastor Jason Schultz will officiate and interment will take place at Wolseley, SK.  In lieu of flowers, donations in Loretta's name may be made to a charity of one's choice.  Arrangements are entrusted to Tubman Funeral Home in Wolseley, SK assisted by Moose Jaw Funeral Home, 268 Mulberry Lane.  306-693-4550