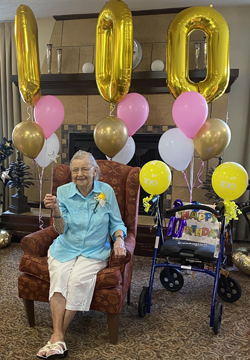 Hilda Schick (née: Randell) passed away peacefully in the Dr. F.H. Wigmore Regional Hospital on Friday, August 19th, 2022, after being admitted on August 15th, 2022.  She was a resident of The Bentley in Moose Jaw where she had joyfully celebrated her 100th birthday on May 22nd, 2022, in the company of many family members, her Bentley "family", and many other friends. 
Hilda was born, raised, and resided in the Bayard District until she and her husband, Willie/Bill, moved to Moose Jaw in 1986 from their farm three miles west of Bayard.  Hilda, her five younger sisters, and two older brothers, were predeceased by their parents, Peter Joseph (Pete) Randell and Julia Baer.  Her sister, Mary Forman (Mrs. Carl) is now the only surviving member of the Randell family.  Hilda was also predeceased by her beloved husband, William (always "Willie" to her), and two sons-in-law. 
Hilda is survived by six children: Harvey (Maxine), Janet Nagel (Bryce), Jim (Arleen), Elaine Scheller (Jim), Jackie McHaffie (Rick), and Lorrie (Robbin); eighteen grandchildren, thirty-six great-grandchildren, six great-great-grandchildren, many nieces and nephews, and special, good friends, Margaret Stenko and Janie Mohart.
Hilda and Willie were married in 1940 and farmed the Schick farm until 1986, when they moved to Moose Jaw.  After Willie passed away in 2005, Hilda lived in their house on Hochelaga Street West until the fall of 2012, at which time she moved to an apartment in Langdon Towers, where she lived for 4½ years.  She then moved to The Bentley, where she lived with her wonderful Bentley "family" of residents until her death.  She enjoyed many aspects of city living, especially the convenience of a good and plentiful water supply for her household, her flowers – she had a green thumb – her garden, her berry patches, and her yard.  However, she always remained a farmer at heart and never forgot her rural roots. 
Hilda took great pride and joy in her vocation as a mother and homemaker.  She was a good cook and baker.  Her strudel, made with her hand-pulled dough, her rhubarb and lemon pie with 2" + meringue, and her deep-fried spudnut doughnuts, were just some of her specialties.  She was a good housekeeper; she landscaped and did much of the maintenance of the farmyard.  She and Willie raised chickens, ducks, geese, and pigs and processed the meat for their family's use, making great sausage (which Willie smoked in the farm smokehouse) and headcheese, etc.  Hilda loved her geese and, as many of you know, she considered roasted chicken feet a favourite delicacy.  She made beautiful, comfortable, and cozy feather pillows and quilts, using the feather from the geese and ducks they raised.  She sewed some clothing and loved to mend (imagine that!) and make alterations to her clothes, which were usually too long or a bit too large in places.  She continued to use her sewing machine until the past year or so.  Many will recall how much she loved to wear cute little caps, or better still, a fancy hat to top off her outfit.  She was a self-taught harmonica player with a pretty good repertoire.  She played for her daughter Jackie the day before she was admitted to hospital. 
Hilda and Willie were friendly, hospitable, and community-minded folks who especially loved to visit with family and friends and to go dancing to old-time music.  Both were very good dancers and to see them dance the schottische (their favourite) was to witness poetry in motion.  They were hardworking, good, and honest folks, salt-of-the-earth, and we are proud and grateful they were our parents.  They taught us and led us by the way they lived.  Hilda was a lot like a thunderstorm, quick-tempered and could get very angry, but then, when it was done, the air was cleared, she was forgiving and didn't hold a grudge.  She was very genuine, sweet, and yet feisty.  Hilda had a contagious smile, when she wore it, her cheeks were round and rosy and everyone around her couldn't help but smile back. 
Hilda and Willie took quite a few trips in Canada and the United States to visit family over the years.  As Willie got older and declined to travel, Hilda took three memorable trips: one to Rome and area with niece Sharon; two with her friend Bernice to Medjugorge, the site of appearances by the Blessed Virgin Mary; and to the Maritimes by bus.  She enjoyed these trips immensely.
Hilda's faith in God was her bedrock foundation.  She was a faithful practising Catholic, a long time Catholic Women's League member, and very devoted to the Blessed Virgin Mary, Mother of Christ.  She loved to sing and was a member of the choir in each of her home parishes: Spring Valley, Claybank, and St. Joseph's, Moose Jaw.  
The Funeral Mass will be held on Thursday, August 25th, 2022 at 11:00 a.m. in St. Joseph's Church, Moose Jaw, SK.  Celebrated by her friend, Rev. Fr. Albert Lalonde, OMI, and concelebrant, Deacon Lamont Dyck, grandson of Mr. and Mrs. Jake Leugner, whose families were neighbours of the Randells in the Bayard district, and later neighbours of Hilda and Willie in Bayard. Those not able to attend may view the service virtually by going to https://youtu.be/MKJ9FPwnyz8.
Hilda's family extends heartfelt thanks to the staff at The Bentley, especially each of you who went above and beyond for Hilda (you know who you are) and to the Bentley "family" of residents. 
Thank you to Dr. Howe and all nurses and staff on Medicine 2 Unit at the Hospital for your amazing, compassionate care and support of Hilda and our family, and to the EMS personnel who helped and cared for Hilda numerous times over the years. 
Thank you as well to Rev. Fr. George Thattuparampil, Deacon Lamont Dyck, and Rev. Fr. Yodel Cereno for their pastoral ministry to Hilda at her home and the hospital. 
We extend a special thank you to Dr. Jan Vermaak, who was Hilda's family doctor for more than six years and cared for her as though she were his favourite aunt.  He chatted and laughed with her at their last office visit in July. 
Over 100 years, a life is impacted by many people who crossed Hilda's path, and we apologize to anyone we've failed to acknowledge here.  God bless each one of you, always.
Interment will take place at Mater Dolorosa Parish Cemetery, Spring Valley, SK, after the funeral luncheon at St. Joseph's Parish Hall, Moose Jaw.  A family gathering will follow, hosted at the Schick family farm by Lorrie and Robbin. 
Arrangements are entrusted to Moose Jaw Funeral Home, 268 Mulberry Lane.  Cara Ashworth – Intern Funeral Director 306-693-4550