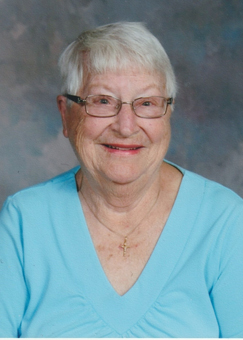 It is with great sadness that we announce the passing of our mother, Sylvia Scherbak.  She passed away peacefully surrounded by her loved ones on Thursday, October 28th, 2021.
Sylvia was born on August 7th, 1939 in Red Lake, Ontario where she was raised by her parents, Matt and Kay Schnerch, along with her brothers James and Edward.
Sylvia moved to Winnipeg, MB and attended St. Boniface Practical Nursing School.  She completed her education and began her nursing career.  In 1966 she married the love of her life, Metro (Matt) Scherbak, where Matt's work on the Gardiner Dam took them to Central Butte, SK.  Moving to Moose Jaw, SK a few years later, they raised three daughters.  Sylvia is survived by her daughter, Lynn Striha (Richard), Brandon Striha, Brooke Striha (Colby Entz); daughter, Cheryl Tkachuk (Jamie), Dalton Tkachuk, Kennedy Tkachuk; daughter, Cathy Scherbak (Murray Braun), Mattea Braun, Canaan Braun; aunt, Lucy Marks of Gimli, MB; brother, Edward Schnerch of Balmertown, ON; as well as many nieces and nephews.
Sylvia dedicated her life to serving God, regularly attending Church of Our Lady and was a member of the CWL.  She was a very giving person, volunteering her time for many organizations in her community.  She loved to garden and took pride in sharing that love.  Sylvia would never turn down the opportunity to play bingo or go bowling.  She was an avid reader, doing needle work and word searches.  Most of all, she loved to brag about her grandchildren.
The family would like to express a huge thanks to her caring friends and neighbours over the years, who Sylvia greatly appreciated.
A Graveside Service will be held on Friday, November 5th, 2021 at 3:00 p.m. in Rosedale Cemetery.  Those wishing to attend are asked to meet at the cemetery gates by 2:45 p.m.  Flowers are gratefully declined.  As an expression of sympathy, donations in Sylvia's name may be made to the Allan Blair Cancer Centre c/o Pasqua Hospital, 4101 Dewdney Ave, Regina, SK S4T 7T1.  Arrangements are entrusted to Moose Jaw Funeral Home, 268 Mulberry Lane.  Todd Sjoberg, Funeral Director 306-693-4550