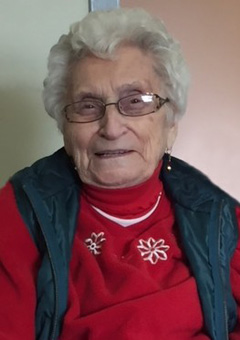 Dorothy May Scarrow (née: Brewer)
Our dear mother, Dorothy May Scarrow, passed away peacefully on Thursday, April 22nd, 2021 at Chateau St Michael's in Moose Jaw, SK after a lengthy illness.  Dorothy was the beloved wife of the late Joseph Howard Scarrow, and was also predeceased by her brothers: William, Douglas, and John; and sister, Gertrude Pilsner.  Dorothy is survived by her three children: Allan (Susan), Dyanna (Edward), and Veronica (Michael); four grandchildren: Crystal, Lawrence, Catherine (Brandon), and Scott (Evonne); two great-grandchildren, Dorothy and Simon; and sister, Margaret Laspa of Winnipeg, MB.  Dorothy was known as "Aunty Dot" to a great many more including nieces and nephews and their families … she enjoyed keeping in touch with many of them via Facebook.
Dorothy was born on January 4th, 1925 in the Channel Islands (Jersey) and immigrated with her family to Canada at the age of 4.  The Brewers settled in southern Saskatchewan on 'the colony' in the Rockglen/Kildeer area.  Dorothy and Howard were married on November 9th, 1945.  They lived in the Rockglen area, in Assiniboia and finally in Moose Jaw.
Dorothy was often surrounded by friends.  She had many hobbies including singing, painting, needlework, crocheting and, not to forget, going to the casino.  She held many roles in the church and was an active church member all her life.
The family wishes to thank the staff, both past and present, for their loving care at Chateau St. Michael's where Dorothy spent her final years.  Thanks also to the staff at the Dr. F.H. Wigmore Regional Hospital for their care while Dorothy was hospitalized.  Lastly, thank you to Bessie and Linda for being such good friends to Dorothy in so many ways, including taking Mom to many medical appointments.
Due to COVID-19 and travel restrictions, a service will not be held at this time.  Interment will take place at Mount Hope Cemetery in Assiniboia, SK at a later date.  In lieu of flowers, memorial donations in Dorothy's name may be made to St. Barnabas Anglican Church (Traditional), 1102 3rd Ave NW, Moose Jaw, SK S6H 3V2 or the Moose Jaw Humane Society, 1755 Stadacona St W, Moose Jaw SK S6H 7K7.  Arrangements are entrusted to Moose Jaw Funeral Home, 268 Mulberry Lane.  Michelle Ellis, Funeral Director 306-693-4550