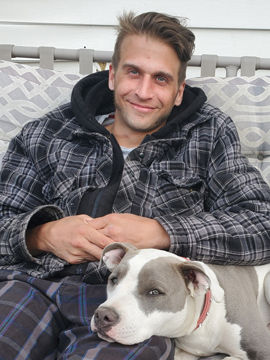 March 8th, 1989 – October 5th, 2022
Ryan was born in Swift Current and moved to Moose Jaw where he attended elementary school at Lindale.  He chose to move back to Swift Current where he completed his Grade 12 in 2007 at the Comprehensive High School.  Ryan completed his carpentry apprenticeship program while working with Jacobs Industrial Services at Mosaic Belle Plaine (2008-2012).  He received his Red Seal in March of 2012.  Ryan worked as a carpenter/scaffolder over the years at various sites.  His carpentry skills were second to none!  Snowboarding and lacrosse, both field and box, were his favorite sports he still enjoyed.  He had just completed the senior field lax season with the Moose Jaw Tommy Guns at the end of September 2022.
This fun-loving soul was taken from us too young, at the age of 33.  He will be deeply missed by family:  his mother Leanne Dalgarno and step father Kim; father Randy Sauder and step mother Barb; brothers Kyle Dalgarno (Kendra) & son Reid; Chance Dalgarno (Savana) & children Braxton, Kenzie and Hudson; sister Ashley Sauder (Eric) and step brother Cody Hagman (Kortney) & son Oliver; grandmothers Helen Gervais and June Carleton.  He will also be deeply missed by his special four legged fur-baby, Ash, as well as many cousins, aunts, uncles and friends.   Ryan was predeceased by his brother, Christopher Sauder; his grandparents: Octave Gervais, Leonard & Emma Sauder, Albert Carleton, Edgar & Olive Dalgarno.
A Celebration of Life to honour Ryan will be held on Wednesday, October 19th, 2022 at 2:00 p.m. in Moose Jaw Funeral Home.  Pastor Marvin Seaborg will officiate.  A private graveside will take place at Sunset Cemetery.  For friends and family not able to attend you are invited to view the service virtually by going to www.moosejawfuneralhome.com/webcast/.  In lieu of flowers, donations in Ryan's name may be made to The Moose Jaw Humane Society Box 1658 Station Main Moose Jaw, SK S6H 7K7 or to the Moose Jaw Kinsmen Lacrosse 855 MacDonald St Moose Jaw, SK S6H 2W3.  Arrangements are entrusted to Moose Jaw Funeral Home, 268 Mulberry Lane.  Cara Ashworth, Funeral Director 306-693-4550.