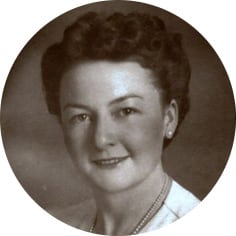 NORMA BEATTIE SANDERSON (FERGUSON)
February 22th, 1917 – May 5th, 2020
It is with great sadness that the family of Mrs. Norma Sanderson (mom, grandma and great-grandma) announce her passing at the age of 103 years on Tuesday, May 5th, 2020.
Norma was born February 22nd, 1917 and grew up on the family farm in Grayburn, Saskatchewan.  She attended school in Grayburn until Grade 11 when she moved to Moose Jaw and lived with her sister while completing Grade 12 at Albert E. Peacock Technical High School.  In fact, Norma was very proud of being a member of the first graduating class from "Tech".  A few years later, Norma met Tom Sanderson at Swift Packers where they both worked.  When Tom joined the army to serve in World War II, they moved their wedding up and were married in 1942.  They started their family as soon as Tom returned from Europe at the conclusion of the war…  Linda was born in 1946, Allan in 1948 and Nancy came along in 1954.  On his return from active service Tom worked out at the Canadian Forces Base in Moose Jaw as an electrician.  Soon Norma joined him, and they worked at the base until they retired in 1978.  From them on, they spent their winters in Arizona where they enjoyed the warm weather and wonderful friendships with several other Moose Jaw "snowbirds".  
Norma's kids were always involved in sports and Norma was their biggest fan and cheerleader.  She supported each of them in whatever activity they pursued.  She worked to help with the cost of their education and their participation in various sports.  That support also extended to Tom's participation in the Moose Jaw bowling scene.  Tom was the architect of a strong bowling association that produced provincial and national championships and very strong participation at the local level.  Tom received the Saskatchewan Sports award for bowling and Norma's contribution to his success cannot be understated.  In later years, Norma especially loved to watch her grandson Nathan play sports.  Norma loved all sports but especially curling, her Toronto Blue Jays and the Saskatchewan Roughriders, which she watched and cheered on faithfully.  Over and above sports, Norma was also a member of the Rebekah's Lodge for over 50 years and volunteered regularly.
Norma was a wonderful mother who loved being with her family and helping others.  We loved her dearly and will miss her very much.  Family was always Norma's priority and she was famous for making clothes, doing needlepoint and baking pies and wonderful desserts.
Predeceased in 1996 by the love of her life – husband Tom, Norma is survived by Linda Sanderson in Delta, BC, Allan (Barb) Sanderson in Moose Jaw and their family, Brad, Jordan (Tamara) and Luke, Shaun and Tyler, Nancy (Steve) Nowak in Surrey, BC, her grandson Nathan (Ashley) Nowak, and great-grandsons, Mason, Connor and Ryan.  She is lovingly remembered by a whole host of extended family.
The family would like to recognize the special love and tremendous devotion of Barb and Al over the years particularly as Norma's health declined.  As well, a special heartfelt thanks to the staff at Pioneer Lodge for their wonderful care over the past five years.  A Celebration of Life is planned for a later date.  Flowers are gratefully declined and instead please consider a donation to the Recreational Fund at the Pioneer Lodge, 1000 Albert St, Moose Jaw, SK S6H 2Y2 or a charity of your choice.  Arrangements are entrusted to Moose Jaw Funeral Home, 268 Mulberry Lane.  Gary McDowell, Funeral Director 306-693-4550.