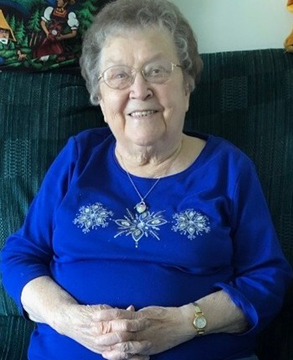 Irmgard Saemann (née: Schmitt)
The family of Irmgard Saemann (née: Schmitt) is deeply saddened to announce her passing in Moose Jaw, SK on Wednesday, August 10th, 2022 at the age of 92 years.  
Irmgard was born in Pirmasens, Germany on April 23rd, 1930 to Emilie and Heinrich Herbert.  Irmgard met her future husband, Otto, in 1948 and was married on September 23rd, 1950.  The young couple, along with their first born son Peter, immigrated to Canada in 1952 and settled in Moose Jaw where they eventually added 5 more children to their family.  After settling in their new country, Irmgard babysat out of their home while caring for her young family.  As the children grew older, Irmgard took a position at St. Anthony's Home to put her nursing skills to work.  Continuing with senior care, she would do in house visits daily to care for her client's needs.  
Irmgard later worked at Woolco in the deli department and as her husband's business grew, she left Woolco to help Otto with the books.  When he closed the business, they now had time to enjoy travelling and visiting friends and family throughout Germany, the United States, and Canada.
Irmgard filled her days cooking, baking, keeping a tidy house, and caring for her family.  It was always a treat to come home to the aroma of fresh baked cookies, buns or cake.  During the winter months, she would occupy her times knitting and crocheting beautiful gifts for her loved ones.  
She was predeceased by her husband, Otto Saemann (2018); son, Karl Saemann (2017); mother, Emilie Schmitt (1981); father, Heinrich Herbert (1981; youngest sister, Helga Abbington (née: Schmitt); brother, Fritz Schmitt; and step-father, Jakob Schmitt.  Irmgard is survived by her children: Peter, Monica, Susan (John), Ralph, and Stephan (Pauline); daughter-in-law, Jennifer Saemann; grandchildren: Tyson Saemann (Alica), Ashley Saemann (Jon), Allison Saemann, Erin Campbell (Chris), Jason Saemann (Caroline), Angela Blondeau (Andrés), Charlotte Blondeau, Joseph Blondeau, Tammy Neufeld (Kelly), Bryan Rooney, Robert Rooney, Shannon Saemann (Geoffrey), Kelli Hawtin (Mitch), Emily Demeester, Stephanie Saemann, and Erica Saemann; eighteen great-grandchildren; as well as several nieces and nephews.
The Funeral Service will be held on Thursday, August 18th, 2022 at 1:00 p.m. in Moose Jaw Funeral Home.  Pastor Marvin Seaborg will officiate and interment will take place in Rosedale Cemetery.  Those not able to attend may view the service virtually by going to www.moosejawfuneralhome.com/webcast/.  Flowers are gratefully declined.  As an expression of sympathy, donations in Irmgard's name may be made to the Salvation Army, 175 – 1st Ave NE, Moose Jaw, SK S6H 0Y9 or The Moose Jaw Humane Society, Box 1658 Station Main, Moose Jaw, SK S6H 7K7.  Arrangements are entrusted to Moose Jaw Funeral Home, 268 Mulberry Lane.  Gary McDowell, Funeral Director 306-693-4550