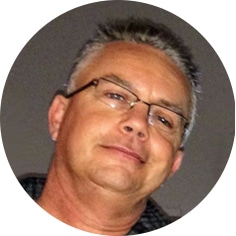 It is with great sadness, that the family of Bernie Roy would like to share his passing from complications due to diabetes on Sunday, February 3rd, 2019.  He was predeceased by his father, Harvey Roy; and grandparents: Urbain and Rhea Roy, and William and Mildred Hancock.  Bernie is survived by his devoted mother, Jackie; sisters: Renee, Kelly (Ian), and Michelle (Brian); nieces: Jess (Stacey), Tara, Carley, Aubrey, and Meredith; nephew, Sam; great-nieces, Abby and Kailey; great-nephew, Jase; as well as by many aunts, uncles and cousins.  Bernie was a hard worker who made sure that he completed each goal that he set for himself to the best of his ability. As a teenager, he worked at the family owned restaurant which helped to build his desire to be an entrepreneur.  He worked endlessly to reach that goal for himself, but his declining health derailed his ability make that dream a reality. He never gave up though and was always trying to do his best. Bernie had a big heart and was always willing to help those in need.  Until his health started to decline, he was an active member of Big Brothers and Big Sisters and the Moose Jaw Early Bird Lions. He truly enjoyed helping and mentoring the youth in the community. As a diabetic for the last 53 years, Bernie was a fighter. From the age of five, he had to learn to manage his health and to stay strong during many hospital stays.  Not once did he ever complain – he just held his chin high and kept going. Bernie's family would like to thank the staff in the Dialysis Unit of the Dr. F.H. Wigmore Regional Hospital for the great care and support that they gave him and our mom throughout his illness. A Private Family Memorial Service will be held at a later date.  In lieu of flowers, donations in Bernie's name may be made to the Renal Dialysis Unit at the Dr. F.H. Wigmore Regional Hospital c/o the Moose Jaw Health Foundation, 55 Diefenbaker Drive, Moose Jaw, SK S6J 0C2.
God Saw You Getting Tired
God saw you getting tired
And a cure was not to be
So he put His arms around you
And whispered "Come to me."
With tearful eyes we watched you
As you slowly slipped away
And though we loved you dearly
We couldn't make you stay.
Your golden heart stopped beating
Your tired hands put to rest
God broke our hearts to prove to us
He only takes the best.
Arrangements are entrusted to Moose Jaw Funeral Home, 268 Mulberry Lane.  James Murdock, Funeral Director 306-693-4550