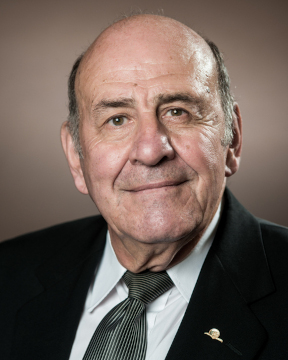 It is with heavy hearts we announce the sudden passing of Adolph (Al) Rossler aged 82 years of Moose Jaw, SK, on Friday, November 3rd, 2023.  Al leaves behind his loving wife of 61 years, Patricia; children and grandchildren: Kathy (Dale) Wourms, Colman (Kamaya), and Victoria (Sam); Martin (Bonny) Rossler, Tyler Figley, and Matthew; Terri (Shayne) McCaskill, Samantha and Megan; Kelly (Derek) Zbaraschuk, Adam and Sara; sister, Magdeline (Ralph) Zinger; sister-in-law, Marion Sigstad; sister-in-law, Jean (David) Cook; brother-in-law, Nick (Lynda) Thul; sister-in-law, Bonnie (Gary) Goodsman; aunts: Millie Brunner, Emma Beitel, and Hilda Ingjaldson; uncle, Ed Beitel; as well as numerous nieces, nephews, and cousins.
Al was born on the farm in Spring Valley, SK in 1941, where he spent his first 14 years.  The family relocated to Moose Jaw, and he graduated from St. Louis College.  After graduation, he started working at The Saskatchewan Training School (Valley View Center) where he spent the next 36 years as a Psychiatric Nurse, moving through many different roles.  Most people that had the pleasure of working with him respected his calm, balanced, but firm approach.  After retiring from Valley View, Al became the first Director of Spiritual Care at the Moose Jaw Union Hospital.  He also worked at Moose Jaw Funeral Home where he offered comfort to countless families.  
Al developed a love of sport dating back to his time playing football at St. Louis College.  He channeled this passion into coaching Elk's minor football, and was a coach when Vanier won their first ever football game.  He was an avid bowler and golfer.  In his later years, Al remained active by working out at local gyms.  He was a lifelong and loyal fan of the Leafs, Riders, and the Green Bay Packers. 
Although Al left the farm young, the farm never left Al.  He was a steward of the earth, adopting recycling and composting practices before they were popular.  He was always ready to lend a hand during seeding and harvest season.  He also had a passion for gardening and loved to watch things grow.  Gardening was a labor of love and Al took great joy in preserving and sharing the bounty.  
Al embraced his faith and made it a part of everything he did.  He and Pat attended Lay Formation classes in Regina, SK and liturgical classes in Edmonton, AB.  He spent countless hours providing his talents to the church and the community as a whole. 
Al had a true-life partnership with his wife Pat and their example taught their children what true marital commitment is.  He was a dedicated family man who welcomed his daughter and sons-in-law into the family and loved them unconditionally.  He was delighted as each grandchild was born and the family grew.  Every family function centered around food, and nothing made him happier than spending time with his wife, children, grandchildren, and extended family.  
Al knew how to take care of people and always found time to volunteer in the community.  One of his most cherished events was the Christmas meal for the Mental Health Associations clients in the city.  He also coordinated and delivered Meals on Wheels for the Knights of Columbus.  Al provided lay services to the residents of The Bentley, Mulberry Estates, and West Park Crossing.  He took communion to the sick and shut ins in our community.  Al was the recipient of the Canada 150 Award for outstanding contribution to the community.
Al served a variety of positions over several terms on the parish council of St. Joseph's Church.  He always had a welcoming smile and a strong handshake and was known for welcoming newcomers into the church.  He supported the orientation of new priests to the parish and thought of many of them as family.  During the pandemic, he spearheaded the initiatives to keep services safe for all.
He was a proud member of the Knight of Columbus Father Lawless Council #1534 and gave of himself tirelessly; he organized three provincial conventions in Moose Jaw.  He would often be found in the church kitchen heading the pancake breakfasts, the fall supper, and any other event that helped build the faith community.  In 2006, the Father Lawless Council 1534 honoured him as the Knight of the Year.  Al was very touched when the Saskatchewan Knights of Columbus honored his family as Family of the Year in 2012.  
We will miss him but are comforted by the knowledge that he is going home to his Heavenly Father's house and will be waiting to greet us when it is our turn.  This is not goodbye…we will see you later Al.
A Mass of Christian Burial will be celebrated on Wednesday, November 8th, 2023 at 11:00 a.m. at St. Joseph's Roman Catholic Church, 1064 3rd Ave NW, Moose Jaw, SK.  Family and friends who unable to attend may view the service virtually by going to https://youtube.com/live/ZxLz7uru03E.  Interment will take place at Sunset Cemetery followed by a lunch and social at the church.  A Prayer Service will be held on Tuesday, November 7th, 2023 at 7:00 p.m. in Moose Jaw Funeral Home, followed by a time of fellowship.  In lieu of flowers, donations in Al's memory may be made to either the St. Joseph's Building Fund at http://www.stjosephmj.com/ or the Saskatchewan Knights of Columbus Charitable Foundation at https://saskkofc.foundation.  Arrangements are entrusted to Moose Jaw Funeral Home, 268 Mulberry Lane.  Gary McDowell, Funeral Director 306-693-4550